Pipedreams Live!
Treasures from the Pipedreams Archive
How to Order
For your convenience, we offer two ordering options for obtaining this compact disc.
Please understand that a significantly larger percentage of your payment will directly benefit the ongoing production of our weekly broadcasts. . .if you purchase this CD through the Pipedreams Office.

We appreciate your participation.
Please use our order form.

If you choose, you also may order the Pipedreams compact discs online from the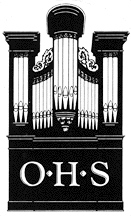 An introduction from Michael Barone

Since the production of our first
Pipedreams
compact disc in 1993, we had been thinking about doing another. While we intend eventually to continue the premieres theme of our first album, in this collection you can see that we've elected to follow a different path.
Live performance is exciting! It's also full of pitfalls and potential blemishes, but when the synapses are sizzling, and the fates are smiling (and not coughing, rustling their programs, or making too many other disruptive noises), the results can be magical. Presented here are just a few of those special moments which have been captured by the Pipedreams microphones.
There is quite a spread of time here - two decades from 1973 to 1993 - representing many notes under the fingers and many inevitable advancements in recording technology. There's quite a spread of repertoire, too, with the majority of these pieces not otherwise available on disc. Even the Mendelssohn Concerto has its unique features.
As you play through this album, it will be apparent that these were not session recordings. They are documents of actual concerts, particular moments never to be repeated. While I admit having been tempted to re-record some selections, ultimately I realized that the miracle of communication captured by these tapes could not be recreated on command.
Organ music is many things to many people. One thing, to my ears, which it definitely is not is commonplace and dull. This instrument attracts and enjoys the artistry of some of the world's outstanding musicians, incomparable and compelling virtuosos, who astound us with their intense vision and beguile us with their humanity. I hope you enjoy listening to a few of them here wonderful exemplars of Pipedreams Live!
Track Listings:


1
JOHANN STRAUSS II(1825-1899)
Emperor Waltz [8:00]
Peter Conte, organist
1908 Robert Hope Jones organ (with many expansions), 146 ranks
Ocean Grove Auditorium, Ocean Grove, NJ

2
CLARENCE MADER (1904-1971)
*Afternoon of a Toad (unpublished) [4:58]
Cherry Rhodes, organist
1992 C.B. Fisk organ, 84 ranks
Meyerson Symphony Center, Dallas, TX



3
CLARENCE MADER (1904-1971)
*October Interlude from Organ Music (Avant Music) [7:07]
Cherry Rhodes, organist
1934-1974 Aeolian-Skinner-Casavant organ, 123 ranks
Grace Cathedral, San Francisco, CA



4
HEALEY WILLAN (1880-1968)
*Prelude & Fugue in C Minor (H.T. FitzSimons) [8:58]
Anne Wilson, organist
1863 E.B. Walcker/1947 Aeolian-Skinner organ, 115 ranks
Methuen Memorial Music Hall, Methuen, MA



5
J. S. BACH (1685-1750)
*Largo (2nd movement) from Concerto in D Minor, BWV 1043 [7:00]
Wolfgang Rübisan, organist, with Jeffrey I. Campbell, assisting organist
1964 Aeolian-Skinner, 100 ranks
Alice Millar Chapel, Northwestern University, Evanston, IL



6
7
8
9
EUGENE HANCOCK (1929-1994)
*Four Spirituals from An Organ Album of Spirituals (Lorenz Publishing Company)
We are Climbing Jacob's Ladder [4:10]
Go Tell It on the Mountain [2:00]
My Lord, What a Morning [3:25]
Joshua Fought the Battle of Jericho [1:32]
Robert Scoggin, organist
1967-1983 Robert Sipe organ, 64 ranks
Christ United Methodist Church, Rochester, MN



10
FELIX MENDELSSOHN (1809-1847)
*Piano Concerto No. 1 in G Minor, Opus 25 [19:55]
Robert B. Pitman, pianist; George Lamphere, organist
1863 E.B. Walcker/1947 Aeolian-Skinner organ, 115 ranks
Methuen Memorial Music Hall, Methuen, MA



11
GUY BOVET (b. 1942)
**Hamburger Totentanz (Oxford University Press) [5:10]
John Scott, organist
1928 Welte/1961 Meller/1983 Gould organ, 75 ranks
The Cathedral Church of Saint Mark, Minneapolis, MN


* Only available recording
** First available recording
Learn more about Pipedreams' other recordings,
Pipedreams Premieres
and
Pipedreams Premieres, Vol. 2.