Pipedreams Premieres Vol. 2
Introduction

Track Listings

Review by American Record Guide

Other recordings

Pipedreams Live

Pipedreams Premieres.
How to Order
For your convenience, we offer two ordering options for obtaining this compact disc.
Please understand that a significantly larger percentage of your payment will directly benefit the ongoing production of our weekly broadcasts. . .if you purchase this CD through the Pipedreams Office.

We appreciate your participation.
Please use our order form.

If you choose, you also may order the Pipedreams compact discs online from the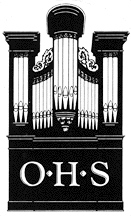 An introduction from Michael Barone
Pipedreams Premieres, Volume 2, the third from this source, highlights works by several exceptional twentieth-century composers, with an international array of soloists and eight different instruments. The majority of the pieces appear here on CD for the first time.
The two major items come from Minnesota. Libby Larsen's complex three-movement score, Aspects of Glory (1990), explores the moods and contexts of emotional and religious uplift. The Organ Concerto (1992) by Stephen Paulus contributes a brilliant and engaging new piece for organ, strings and percussion to the repertoire. Also included are two items by Black composers (Sowande and Kerr), a score created for an organ competition, a lyric piece by the former music director of the National Cathedral in Washington, a haunting movement for organ and electronic tape, and a mystical exploration of the power of an antique temperament.
The opening track is Brent Weaver's brash Fanfare and Antiphons (1992), written for an organ competition at Spivey Hall at Clayton State College in Morrow, Georgia. Susan Klotzbach, who won the competition, recorded the piece on the hall's dynamic Italian-built Ruffatti concert organ, which she uses fully.
Blissfully uncomplicated, the Cantilena by Richard Wayne Dirksen, is a movement from an otherwise unpublished organ sonata. Dirksen is best know for his many years as head of music at the Washington Cathedral in our nation's capitol. The sense of awe and wonderment in his music is compellingly captured by Nashville-based recitalist Wilma Jensen in her performance on the huge Aeolian-Skinner organ at the Riverside Church in New York City.
Recitalist Diane Belcher premiered Libby Larsen's Aspects of Glory on the Canadian-built Casavant organ at Boston University's Marsh Chapel. The work was commissioned for the 1990 national convention of the American Guild of Organists (AGO) held in Boston. Larsen quotes an African-American spiritual and a traditional Protestant hymn, and the composition ends with a vigorous tambourine dance.
Thomas Kerr's Arietta and Fela Sowande's Obangiji, touch further on ethnic themes. Kerr's is a kind of urban and urbane blues song, lyric and rich in harmony. It's played by Mickey Thomas Terry, a well-known scholar and promoter of African-American organ music. He was taped on a small but beautiful Aeolian-Skinner instrument at Georgetown Presbyterian Church in Washington, DC. Nigerian communal singing is evoked in the exciting Sowande score, which David Hurd recorded on the historic Holtkamp organ at Fisk University in Nashville.
Works for organ and pre-recorded electronic sounds are few and rarely encountered. One supremely successful example of the genre is Richard Stewart's haunting Prelude for Organ and Tape. It blends real and manipulated tones in a potently poetic brew. David Engen, who has been fascinated by the piece for years, performed for CD on the Schantz organ at the Church of Saint Leo the Great, Saint Paul, Minnesota. Spooky but hugely satisfying, this is a tantalizing combination of tradition and technology.
In contrast, the plaintive Ricercare by Swiss composer Guy Bovet is steadfastly old-fashioned, yet its singular simplicity provides its special power. Because of the historic tuning system used (called 'mean-tone temperament,' the standard way of tuning in the 17th century), even a scalar melody or a small shift in harmony takes on added poignancy and depth of emotion. The composer plays an organ by Nebraska builder Gene Bedient at Ripon College in Wisconsin.
When capacity, standing-room audiences jump up and shout hurrah, you know you've done something right. That's the response generated by Stephen Paulus, who has provided the organ with an exceptional new concert piece in his Concerto for Organ, Strings and Percussion, commissioned by Trinity Presbyterian Church in Atlanta. The work's four contrasting movements invest the organ with a rare and scintillating energy. Imaginative and colorful registrations and lively rhythmic interchange balance with moments of sweet repose and blissful musing. Robert Shaw conducted the premiere, and shortly afterwards the work was presented again to an eager AGO national convention audience. Paulus's Concerto was the hit of the week, and subsequent listeners have been every bit as enthusiastic as were the first ones. Norman Mackenzie, who premiered the concerto, solos on the Petty-Madden organ at Trinity, with members of the Atlanta Symphony led by George Hanson (a former assistant conductor in Atlanta, now music director of orchestras in Tucson, Arizona, and Wuppertal, Germany). Our CD presents the 1992 AGO concert performance.
The CD's total playing time is 1:10:56. A majority of the presented works appear on this disc for the first time. All received their 'premiere' national radio exposure through Pipedreams broadcasts.
Track Listings
1
BRENT WEAVER
Fanfare & Antophons[6:11]
Susan Klotzbach, organist
11992 Ruffatti organ
Spivey Hall, Morrow, GA


2
RICHARD WAYNE DIRKSEN
Cantilena [5:36]
Wilma Jensen, organist
Aeolian-Skinner organ
Riverside Church, New York, NY


3
4
5
LIBBY LARSEN
Aspects of Glory (1990) [17:13]
Diane Meredith Belcher, organist
1950 Casavant organ
Marsh Chapel, Boston University


6
THOMAS KERR
Arietta [5:55]
Mickey Thomas Terry, organist
1957 Aeolian-Skinner organ
Georgetown Presbyterian Church, Washington, DC


7
FELA SOWANDE
Obangiji [3:48]
David Hurd, organist
1961 Holtkamp organ
Fisk University, Nashville, TN


8

RICHARD STEWART
Prelude for Organ & Tape [6:06]
David Engen, organist
1985 Schantz organ
Saint Leo's Church, Saint Paul, MN


9
GUY BOVET
Ricercare [5:28]
Guy Bovet, organist
1982 Bedient organ
Ripon College, Ripon, WI


10
11
12
13
STEPHEN PAULUS
Concerto for Organ, Strings and Percussion (1992) [22:15]
Norman Mackenzie, organist
George Hanson conducts members of the Atlanta Symphony
1987 Pett-Madden organ
Trinity Presbyterian Church, Atlanta, GA