Pipedreams Premieres Vol. 1
Introduction

Track Listings

Other recordings

Pipedreams Live

Pipedreams Premieres2

How to Order
For your convenience, we offer two ordering options for obtaining this compact disc.
Please understand that a significantly larger percentage of your payment will directly benefit the ongoing production of our weekly broadcasts. . .if you purchase this CD through the Pipedreams Office.

We appreciate your participation.
Please use our order form.

If you choose, you also may order the Pipedreams compact discs online from the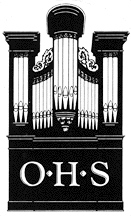 An introduction from Michael Barone
This project came about as a result of much "pipedreaming." The foremost fantasy, of course, was the notion of Pipedreams itself, a weekly 90-minute national radio program devoted to organ music. During its many years on the air, Pipedreams has broadcast more program minutes of pipe organ music for national distribution than any prior organ program in American radio history.
We felt some sort of celebration was in order. So, since we'd documented a number of first performances, we decided to collect some of those works for which Pipedreams was the first major venue of outreach. Through a process more pragmatic than fair, we settled upon the items included here, which, I think, are representative of our work (and the activity of organists and composers) while being by no means an exhaustive or exhausting survey. The notion of "premieres" was paramount, as was the desire to create an interesting and varied recorded recital for your enjoyment. I hope you think we have succeeded in that!
My hearty thanks go to all whose contributions - as players, composers, scholars, engineers, and promoters - have brought this little project to fruition. And, more so, I am beholden to everyone for whom organ music is not a peripheral interest but an absolute necessity and sustenance. May the resonant moments contained herein bring you to joy, amazement, and satisfaction in equal measure. Play it again, Sam!
Track Listings


1
STEPHEN LOHER (b. 1941)
*Fanfare Improvisation [1:30]
Stephen Loher, organist
1938-1962 Aeolian-Skinner organ, 94 ranks
Saint Paul's Chapel, Columbia University, New York, NY



2
J.S. BACH (1685-1750) - Michael Ferguson (b. 1958)
*Contrapunctus XIV [11:50] (Holbrook & Associates)
Michael Ferguson, organist
1979 C.B. Fisk organ, 97 ranks
House of Hope Presbyterian Church, Saint Paul, MN



3
GIAN CARLO MENOTTI (b. 1911)
*Ricercare [9:30] (G. Schirmer)
John Weaver, organist
1934-1974 Aeolian-Skinner-Casavant organ, 123 ranks
Grace Cathedral, San Francisco, CA



4
LEONARD DANEK (b. 1949)
*Flowers [2:17] (unpublished)
Leonard Danek, organist
1979 Sipe organ, 78 ranks
Hennepin Avenue United Methodist Church, Minneapolis, MN




5
6
7
WILLIAM BOLCOM (b. 1938)
*Gospel Preludes, Book IV (Edward B. Marks Music Company)
*I. Sometimes I Feel Like a Motherless Child [3:05]
*II. Sweet Hour of Prayer [4:32]
*III. Fantasy on O Zion Haste and How Firm a Foundation [7:17]
Marilyn Mason, organist
1954-1967-1978 Aeolian-Skinner-Adams-Bufano organ, 216 ranks
The Riverside Church, New York, NY



8

MONTE MASON (b. 1949)
*Psalm 139: Domine, Probasti [10:12] (unpublished)
The Gregorian Singers
Monte Mason, director
James Frazier, organist
John Seboldt, synthesizer
1963 Aeolian-Skinner organ, 41 ranks
The Cathedral of Saint Paul, Saint Paul, MN



9
BRUCE SIMONDS (1895-1989)
*Dorian Prelude on Dies Irae [11:31] (Oxford University Press)
Edward Berryman, organist
1932-35 Aeolian-Skinner organ, 110 ranks
Northrop Auditorium, University of Minnesota, Minneapolis, MN



10
NANCY PLUMMER FAXON (b. 1914)
*Intermezzo for Organ [2:55] (Carl Fischer-out of print)
John Weaver, organist
1920 E. M. Skinner Opus 308 (relocated and expanded to 123 ranks, 1985-90)
Old South Church, Boston, MA



11
FELIX MENDELSSOHN BARTHOLDY (1809-1847)
**Allegro, Chorale & Fugue in D minor/D Major [7:39] (Novello)
Thomas Murray, organist
1938-1962 Aeolian-Skinner organ, 94 ranks
Saint Paul's Chapel, Columbia University, New York, NY

* Only available recording
** First available recording