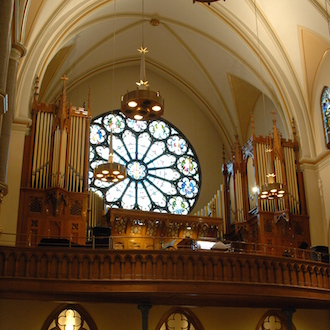 2012 Schantz/Church of the Gesu, Milwaukee, WI
American Composers
…creative talents from the 20th and 21st centuries have contributed importantly to the repertoire of the King of Instruments.
Listen to the program
1 hr 58 Min
59:00 Min
59:00 Min
For the convenience of those of you with mobile devices, now you can listen to our PIPEDREAMS audio at http://www.yourclassical.org!
Program Broadcast dates:
Week of September 3, 2018
Links and Resources:
Music played in the program
Hour 1
ROBERT ELMORE: Fantasy on Nursery Tunes —Robert Plimpton (Wanamaker Organ, Macy's Department Store, Philadelphia, PA) Pipedreams Archive (r. 6/2/12)
HENRY MARTIN: Prelude & Fugue No. 13 in b-flat; Prelude & Fugue No. 14 in D-flat —David Crean (2007 Kegg/All Saint's Lutheran Church, Worthington, OH) Pipedreams Archive (r. 2/8/15)
CHARLES ORE: Sonata —Wyatt Smith (2012 Schantz/ Church of the Gesu, Milwaukee, WI) Pipedreams Archive (r. 11/12/13)
DAN MILLER: Count your blessings –Dan Miller (1990 Möller/Calvary Church, Charlotte, NC) Miller 1990
VINCENT PERSICHETTI: Chorale-prelude, Drop, drop slow tears —Joshua Boyd (1927 Skinner + 1955 Aeolian- Skinner/Hill Auditorium, University of Michigan, Ann Arbor, MI) Pipedreams Archive (r. 9/29/14)
DAVID DAHL: Partita on Lobe den Herren –Mark Brombaugh (1979 Brombaugh/Christ Episcopal Church, Tacoma, WA) Raven 953
Filler – ELMORE (see above)
Hour 2
NEIL STIPP: Fantasy for Organ (1975) —Neil Stipp (1975 Schantz/Biola University, La Mirada, CA) Musical Arts 2007
GEORGE WALKER: Improvisation on St. Theodolph (All Glory, Laud and Honor) —Glenn Tucker (1927 Skinner - 1955 Aeolian-Skinner/Hill Auditorium, University of Michigan, Ann Arbor, MI) Pipedreams Archive (r. 11/19/13)
JAMES WOODMAN: Prelude & Passacaglia –Peter Sykes (1999 Noack/Neskirkja, Reykjavik, Iceland) Raven 640
DANIEL KNAGGS: Come unto me (2014) —Jesus College Choristers/Mark Williams, director; Robert Dixon (2008 Kuhn/Jesus College, Cambridge, England) Ecce Records 2017
WILLIAM BOLCOM: Black Host for Organ, Percussion and Electronic Track —Kay Kirchert, percussion; Stephen Tharp (2002 Klais/Konzerthaus, Bochum, Germany) Pipedreams Archive (r. 2/22/04)
AARON DAVID MILLER: Fantasia on a Theme of Gustav Holst (Thaxted) —Daryl Robinson (2004 Glatter-Götz & Rosales/Walt Disney Concert Hall, Los Angeles, CA) Gothic 49315
Filler – MARTIN: Fugue No. 13 in b-flat
For additional repertoire ideas, check out these programs with an American-music focus:

PIPEDREAMS is supported by the generosity of Mr. & Mrs. Wesley C. Dudley, by grants from Walter McCarthy, Clara Ueland, and the Greystone Foundation, the Art and Martha Kaemmer Fund of the HRK Foundation, and Jan Kirchner on behalf of her family foundation. Additional support comes from Paul Fritts & Company Organ Builders of Tacoma, WA, and Garland Pipe Organs, Inc. of Fort Worth, TX, members of APOBA, the Associated Pipe Organ Builders of America, a collaborative of designers, creators, and maintainers of pipe organs found in religious and educational institutions, concert halls, and residences throughout the United States and beyond. An APOBA resource guide and member prospectus is available at APOBA.COM.