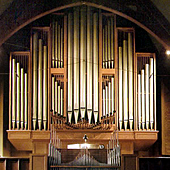 1965 Schlicker organ at Mt. Olive Lutheran Church, Minneapolis, Minnesota
The American Muse
…an ongoing tribute to some of our native composers who know how best to exploit the pipe organ's colors and agility.
Listen to the program
1 hr 58 min
59:00
59:00

Program Broadcast dates:
Links and Resources:
Music played in the program
Hour 1
PAUL MANZ: Hymn Improvisation Suite in C: O wondrous type!; All glory, laud and honor; O day full of grace; O sacred head; God the father, be our stay; Praise and thanksgiving; Jesus Christ is risen –Paul Manz (1965 Schlicker/Mount Olive Lutheran, Minneapolis, MN) Manz Music CD-922
LOUIS MOONDOG HARDIN: Logrundr XVIII –Paul Jordan (1987 Karl Schuke/Anderson Center, SUNY-Binghamton, NY) Spectrum 1001
TIMOTHY ALBRECHT: Grace Notes Suite in C: A mighty fortress; Joy to the world; Have no fear, little rock; All glory, laud and honor –Timothy Albrecht (1982 Casavant Frères/Glenn Memorial Auditorium, Emory University, Atlanta, GA) ACA Digital 20093
ROBERT J. POWELL: 3 Pieces: Jubilate Deo; Salve, sancta parens; Nova, nova; Lauda anima –Aurora Brass Quintet; Christ Church Choir; Edie Johnson (2001 Goulding & Wood/Christ Episcopal, Greenville, SC) Goulding & Wood 2002
DALE WOOD: Prelude on Amazing Grace –John Near (1949 Aeolian-Skinner/Boston's First Church of Christ, Scientist, Boston, MA) Raven OAR-620
PAMELA DECKER: Tango Toccata on a Theme by Melchoir Vulpius –Pamela Decker (1965 Flentrop/Episcopal Cathedral of St. Mark, Seattle, WA) Loft LRCD-1053
Filler –PAUL MANZ: O day full of grace (see above)
Hour 2
RICHARD WAYNE DIRKSEN: Anthem, Sing, ye faithful –Choir of Trinity Church, Brian Jones, conductor; H. Ross Wood (1962 Aeolian-Skinner/Trinity Church, Boston, MA) Dorian DOR 93191
GERALD NEAR: Passacaglia –David Chalmers (1939 Hill, Norman & Beard/St. Andrew's Church, Chesterton, England, UK) Gloria Dei Cantores 006
EDWIN T. CHILDS: 3 Hymn Fantasies: The God of Abraham praise; Jesus, lover of my soul; O God, our help in ages past –Brenda Heck Portman (1992 Schantz/College Church, Wheaton, IL) Hesed Music 3
DON HANNAH: Variations on Aberystwyth, premiere –Paul Hesselink (2006 Beckerath/Doc Rando Hall, University of Nevada, Las Vegas, NV) Pipedreams Archive recorded February 8, 2009
DIANE BISH: Introduction, Theme and Variations on All creatures of our god and king –Diane Bish (2004 Ruffatti/First Presbyterian, Naples, FL) Joy of Music 2004
Filler –EDWIN T. CHILDS: The God of Abraham praise (see above)
We dedicate this program to Dr. Paul O. Manz on the occasion of his 90 th birthday, May 10, 1919. Congratulations, Paul!
Pipedreams #0114 A Portrait of Paul Manz, is a full show devoted to Dr. Manz' music and commentary.