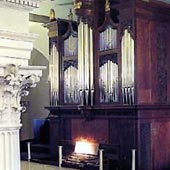 1964 C.B. Fisk organ at King's Chapel, Boston, MA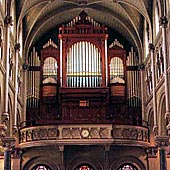 1897 Hutchings organ at the Mission Church, Boston, MA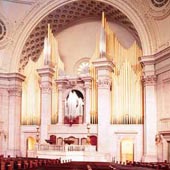 1949 Aeolian-Skinner organ at the First Church of Christ, Scientist, Boston
The American Muse
Further glimpses at the remarkably diverse organ repertoire by American composers, recorded in and around Boston.
Listen to the program
Program Broadcast dates:
Links and Resources:
Music played in the program
CLARENCE EDDY: Festival Prelude on The Old 100th. DAVID EDGAR WALTER: Invocation, Opus 122. SETH BINGHAM: 2 Preludes, Opus 38: Rock of Ages; Nearer my God to thee; My faith look up to thee –Lenora McCroskey (1865 Hook/First Baptist, Newton, MA) recorded June 28, 1990
DANIEL PINKHAM: 3 Versets –Barry Turley (1964 C.B. Fisk/King's Chapel, Boston, MA) Gothic G49040
PETER SCHICKELE: Fantasy for Organ –Thomas Murray (1897 Hutchings/Basilica of our Lady of Perpetual Help "Mission Church", Boston, MA) recorded June 28, 1990
MARILYN ZIFFRIN: Themes & Variations, In Memoriam –Ludger Lohmann (1936 Aeolian-Skinner/Church of the Advent, Boston, MA) recorded June 29, 1990
ROBERT ELMORE: Autumn Song. DEZSŐ d'ANTALFFY: Sportive Fauns –James Welch (1921 E.M. Skinner/Old South Church, Boston, MA) recorded June 27, 1990
ROBERT RUSSELL BENNETT: Sonata in G –Catharine Crozier (1949 Aeolian-Skinner/Boston's First Church of Christ, Scientist, Boston, MA) recorded June 26, 1990
Most of these performances were recorded during the 1990 National Convention of the American Guild of Organists. Click here for more information concerning AGO publications, activities, and the next national convention, to be held in Chicago, July 2-6, 2006.
This program was originally issued as #9427 in June 1994.