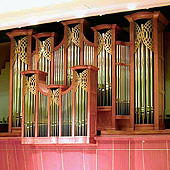 2006 Kegg at Texas A&M International University in Laredo.
The American Muse
…a further foray into some home-grown repertoire from the 20th century for the 'king of instruments'.
Listen to the program
1 hr 28 min
33:25
25:35
29:00
Program Broadcast dates:
Links and Resources:
Music played in the program
Part 1
BERNARD WAYNE SANDERS: Allegro, from Suite for Oregan [1990] –Jan Ernst (1994 Mönch/St. Peter & Paul Church, Spaichingen, Germany) Ambitus CD-97987
GERRE HANCOCK: A Laredo Fanfare –David Heller (2006 Kegg/Texas A&M International University, Laredo, TX) Pro Organo CD 7218
JOE UTTERBACK: 3 Jazz Preludes: Trumpet Tune; The Ewe's Blues; My hope is built –Andrew Shenton (1993 Mander/St. Ignatius Loyola RCC, New York, NY) Utterback CD-2002
LEO SOWERBY: Prelude on Land of Rest –Robert Parris (2000 C.B. Fisk/Christ Episcopal, Macon, GA) Loft LRCD-1080
Part 2
GERALD NEAR: Suite in Classical Style –Linda Marianiello, flute; Keith Reas (1985 Reuter/Augustana Lutheran, Denver, CO) MSR Classics MS1069
DALE WOOD: Shall we gather at the river –John Balka (1971 Ruffatti/Cathedral of St. Mary, San Francisco, CA) Reference CD-98
KEVIN DALY: Fantasie on O Worship the King –Richard K. Fitzgerald (1964 Möller; 2001 Goulding & Wood/National Shrine of the Immaculate Conception, Washington, DC) Private Issue
Part 3
PETER PELHAM: Minuet –James Darling (1954 Aeolian-Skinner/Bruton Parish Church, Williamsburg, VA) Bruton Parish CD-1996
SAMUEL ADLER: Festive Proclamation –William Neil (1970 Aeolian-Skinner/National Presbyterian, Washington, DC) MSR Classics MS1112
SAMUEL ADLER: 2 Jewish Liturgical Songs: Sim Shalom; Sh'ma Yisra'el –Roslyn Jhunever Barak, cantor; Rochester Singers, Samuel Adler, conductor; Barbara Harbach (1924 Skinner/Eastman's Kilbourn Hall, Rochester, NY) Naxos 8.559415
SAMUEL ADLER: How firm a foundation, from Hymnset –Rochester Singers, Samuel Adler, conductor; Barbara Harbach (1983 C.B. Fisk/Downtown United Presbyterian, Rochester, NY) Gasparo CD-258
SAMUEL ADLER: Celebration, from Clarion Calls –Keith Benjamin, trumpet; Melody Turnquist Steet (1981 Kney/Grace & Holy Trinity Cathedral, Kansas City, MO) Gothic G49127
Filler –DALE WOOD (see above)
We salute American composer Samuel Adler on the occasion of his 80th birthday [born 3/4/28].