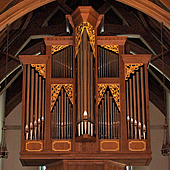 C.B. Fisk Organ
Pipedreams Live! In Saint Paul
This week on Pipedreams host Michael Barone gathers some friends together at House of Hope Presbyterian Church in Saint Paul for a concert in celebration of Pipedreams' first compact disc release. It's sort of a show-and-tell affair, with performances by Leonard Danek, Edward Berryman and Michael Ferguson in of some of their own works, one of which takes a Bachian-challenge to its triumphal conclusion. Monte Mason leads his splendid choirs, and Melanie Ninnemann teams up with Michael Barone for a sonorous organ duet. And Michael will even play a solo or two.
Listen to the program
Program Broadcast dates:
Links and Resources:
Read more about the Pipedreams PD 1001 and Pipedreams Live! compact discs which include two of the selections from this event, and other interesting music from the Pipedreams Archive.
Music played in the program
DIETERICH BUXTEHUDE: Prelude, Fugue & Chaconne in C –Michael Barone
LEONARD DANEK: Festival Prelude; 3 Chorale-preludes: O come, O come, Emmanuel; Lead on, O king eternal; In dulci jubilo; Flowers; Finale, from 3 Meditations on the Gospel of Saint John –Leonard Danek,
CÉSAR FRANCK: Andantino in g. EDWARD BERRYMAN: Polychrome I –Edward Berryman
LOUIS VIERNE: Maestoso in c# –Melanie Ninnemann, Michael Barone
BRYAN KELLY: Magnificat –Melanie Ninnemann, Gregorian Singers & Academy of Saint Cecilia, Monte Mason, conductor
G.F. HANDEL: Voluntary in D –Michael Barone
J.S. BACH (arranged by Michael Ferguson): Contrapunctus Number 14 in d, from Art of Fugue –Michael Ferguson
The event took place at House of Hope Presbyterian Church in Saint Paul, MN, and featured the two exceptional sanctuary organs, a 1979 4-manual C.B. Fisk in the rear gallery and a 1878 2-manual Merklin organ in the chancel, recorded June 30, 1993