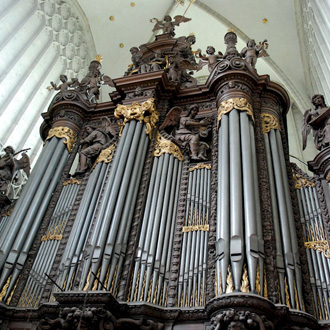 1891 Schyven/Our Lady Cathedral, Antwerp, Belgium
Reach Out and Touch
…a collection of terrifically tactile and telling tests of musical virtuosity and stamina.
Program Broadcast dates:
Week of September 30, 2019
Links and Resources:
Music played in the program
Hour 1
JOHANN KUHNAU: Toccata in A –Dietrich Wagler (1719 Silbermann/Freiberg Cathedral, Germany) Querstand 0304
GIOVANNI TRABACI: Toccata No. 2 on the Second Tone –Francesco Cera (1570 Anonymous/Church of St. Anthony, Salandra, Italy) Brilliant Classics 84897
AUGUSTINUS KROPFREITER: Toccata Francese –Peter Hurford (1978 Rieger/Ratzeburg Cathedral, Germany) Argo 417 159
HERMANN SCHROEDER: Toccata in c, Op. 5 –Hans-André Stamm (1965 Klais/Altenburg Cathedral, Germany) Prezioso 800.012
THIJS KRAMER: Toccata, fr Organ Symphony –Thijs Kramer, organ Koch-Schwann 3-1276
MASSIMO NOSETTI: Toccata, Hommage a Flor Peeters –Domenico Severai (2015 Donato/Cillasanta Cathedral, Monza, Italy) Syrius 141471
BASIL HARWOOD: Toccata, Op. 49 –Jeremy Filsell (1986 Harrison/Winchester Cathedral, England) Herald 162
Filler –
Hour 2
PETER RACINE FRICKER: Little Toccata, fr 5 Short Pieces, Op. 83 –Tom Winpenny (1889 Anneessens-2006 Nicholson/Bridlington Priory, England) Toccata Classics 0518
GUIDO DONATI: Toccata –Guido Donati (1968 Tamburini/Church of St. Francis of Assisi, Turin, Italy) Tactus 940401
BEDRICH JANACEK: Toccata in f# –Robert Bennesh (2005 Lively-Fulcher/Christ Church, New Haven, CT) Pipedreams Archive (4. 4/20/15)
GIROLAMO FRESCOBALDI: Toccata per l'Elevatione (III). FRANCESCO FEROCI: Toccata in D –Edoardo Bellotti (18th c. Anonymous/Memorial Art Gallery, Rochester, NY) Loft 1097
JOSEPH JONGEN: Toccata, Op. 104 –Anton Doonhein (1907-1981 Seifert/St. Mary's Church, Kevelaer, Germany) Versluis 1022
CARSON COOMAN: Ulm Toccata-Fanfare –Erik Simmons (1997 Mathis/St. Peter & Paul Church, Görlitz, Germany) Divine Art 25185
PAUL de MALEINGREAU: Toccata, Op. 73, no. 4 –Peter Van de Velde (1891 Schyven/Our Lady Cathedral, Antwerp, Belgium) Aeolus 10621
HEINRICH KAMINSKI: Toccata and Fugue in C –Rudolf Lutz (1888 Walcker/Stadtkirche, Winterthur, Switzerland) Christophorus 77115
Filler –

Continuing support of PIPEDREAMS is provided in memory of Wesley C. Dudley by his family, with additional support from Walter McCarthy, Clara Ueland, and the Greystone Foundation, by Jan Kirchner on behalf of her family foundation, by the Art and Martha Kaemmer Fund of the HRK Foundation, in celebration of the life of Martha Hulings Kaemmer, and by listener-contributors to this public radio station. Additional support comes from Quimby Pipe Organs, Inc. of Warrensburg, MO, and Schoenstein & Company Pipe Organ Builders of Benecia, CA, members of APOBA, the Associated Pipe Organ Builders of America, a collaborative of designers, creators, and maintainers of pipe organs found in religious and educational institutions, concert halls, and residences throughout the United States and beyond. An APOBA resource guide and member prospectus is available at APOBA.COM.