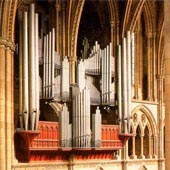 …choirs and organists share a bountiful repertoire drawn from many years of the British holiday tradition.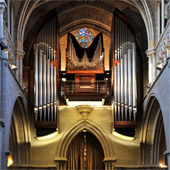 …a sampler of instruments in Basel, Arlesheim, Neuchatel, Bern, Fribourg, Geneva, Romainmotier, Lausanne, Sion, Lucerne, Zurich and many other venues along the way to be explored during the upcoming PIPEDREAMS Tour of Switzerland (May 12-25, 2014).
Hear about our upcoming show The American Organists' Christmas , Program No. 1350 (12/16/2013)
See highlights of the 2013 Tour to Spain by visiting the Pipedreams 2013 Tour page.

Pipedreams is going to Switzerland!
Pipedreams program (#1348, "A Swiss Mix") highlights some of the instruments to be visited during our
upcoming tour (May 12-25, 2014) in Switzerland
. Whet your appetites, friends – and sign up now to travel with us!
An Amazing Organ Restoration Story:
On many occasions, PIPEDREAMS broadcasts have featured compact discs from the catalog of
JAV Recordings
. The inspiration for that catalog, and the devotion of its manager, was initiated years ago by the sound of a modest church organ in Brooklyn, an instrument that had been silent for more than a decade, but now lives again! Check out its restoration
here
and delight in its rededication, put to the test by Olivier Latry,
here
!
Michael Barone makes personal appearances here and there, and would love to greet you at one of these upcoming events:
December 8, 2013
6PM – Michael is featured speaker for the Holiday Dinner Gala of the Spreckels Organ Society in San Diego, CA. Reservations required.
January 11, 2014
10AM – Pipedreams co–hosts a lavishly illustrated talk by Bertrand Cattiaux ("Six Centuries of French Organ Building") at MPR's UBS Forum. Free, but pre-registration requested due to limited seating.
January 19, 2014
Michael Barone interviews conductor and soloists prior to an organ concerto concert presented by the Chamber Orchestra of Philadelphia at Verizon Hall.
You can 'meet Michael' in places that few have a chance to visit, inside the marvelous, magnificent and monumental Wanamaker Grand Court Organ at Macy's Philadelphia Department Store…via a superb behind-the-scenes visit with Wanamaker Organ curator Curt Mangel, via a detailed DVD that reveals much about this incredible music-making masterpiece.
In the spotlight

1998 Schantz organ at Moody Memorial First United Methodist Church, Galveston, TX
National broadcasts of Pipedreams are made possible with funding from Mr. and Mrs. Wesley C. Dudley, MAHADH Fund of HRK Foundation, by the contributions of listeners to American Public Media stations, and by the Associated Pipe Organ Builders of America, APOBA, representing designers and creators of fine instruments heard throughout the country, on the Web, and toll-free at 800-473-5270.