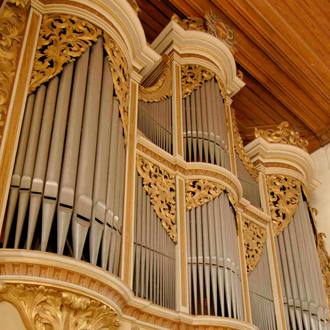 ……whether in his own country or in Switzerland, Japan or the USA, Bach's music thrills, unequivocally.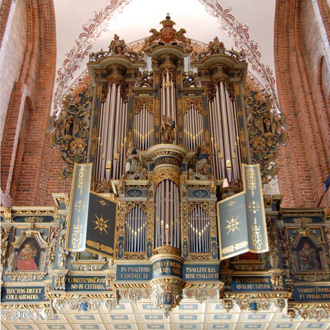 ……Danish recitalist Bine Bryndorf provides an in-depth assessment of the greatest organ composer before Bach, Dieterich Buxtehude, plus works by his teacher Heinrich Scheidemann and his 'followers' Nicolaus Bruhns and Johann Sebastian Bach.
Hear about our upcoming show To Rise and Shine , Program No. 1813 (3/26/2018)

For the convenience of those of you with mobile devices, now you can listen to our PIPEDREAMS audio at http://www.yourclassical.org!
Sign up for our newsletter, which brings a new program to your inbox every week!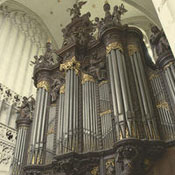 The next Pipedreams Group Tour takes us for the first time to Belgium (May 15-26, 2018), and you're invited to join us! Brochure available here.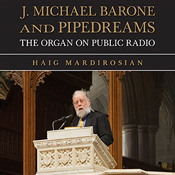 Michael Barone and PIPEDREAMS are the feature of a newly-released monograph from the American Guild of Organists. Read some of the back-story to the program and its host.

Meet Michael!
Michael Barone makes personal appearances here and there, and would love to greet you at one of these upcoming events:
April 6, 2018, 7:30 p.m.
Michael Barone hosts the Minnesota debut of Danish recitalist Bine Bryndorf at House of Hope Church, Saint Paul.
Aprl 8, 2018, 3:00 p.m.
Join Michael Barone in celebration of The Art of Diane Bish with the American Organ Institute at the University of Oklahoma.
April 21, 2018, 7:30 p.m.
Michael Barone records British organist Tom Winpenny at the Cathedral of Saint Mark in Minneapolis, MN.
April 30, 2018, 8:00 p.m.
Might you spot Michael Barone taking notes while John Malkovich and Martin Haselböck present "Just Call Me God!" at Verizon Hall in Philadelphia?
May 4, 2018, 7:30 p.m.
Michael Barone is host for a Members Recital sponsored by the Twin Cities Chapter of the American Guild of Organists.
May 6, 2018, 3:00 p.m.
Michael Barone visits 1st Lutheran Church in Bemidji, Minnesota to record a concert on the new Casavant pipe organ there.
May 10, Thursday, 2:00 p.m.
Michael Barone is host for an 'organ crawl' to three impressive pipe organs in Naples, FL.
May 15-26, 2018
Join Michael Barone and friends for the annual Pipedreams Group Tour of historic organs… covering 5 centuries of the organ-builder's art… in Belgium.
June 3, 2018, 3:00 p.m.
Michael Barone is host and interviews soloist Ahreum Han during a special program of organ with modern dance at Verizon Hall in Philadelphia, PA.
June 23, 2018, 11:00 a.m. to 4:00 p.m.
Join master-of-ceremonies Michael Barone for the annual family-friendly Kimmel Center Organ Day in Philadelphia. It's free!
July 5, 2018, 3:30-7:00 p.m.
Michael Barone hosts a PIPEDREAMS LIVE! event featuring the seven Quimby Rising Stars young artists, plus Michael Unger premiering the final pieces in the Pipedreams-commissioned set of Preludes and Fugues in Jazz Style by Henry Martin! Public invited!
You can 'meet Michael' in places that few have a chance to visit, inside the marvelous, magnificent and monumental Wanamaker Grand Court Organ at Macy's Philadelphia Department Store… via a superb behind-the-scenes visit with Wanamaker Organ curator Curt Mangel, via a detailed DVD that reveals much about this incredible music-making masterpiece.

In the spotlight

1996 Bond organ at Holy Rosary Catholic Church, Portland, Oregon