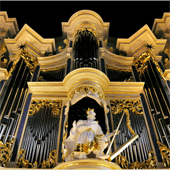 …performances by students and faculty of the Eastman School of Music during a remarkably popular and successful weekend organ festival.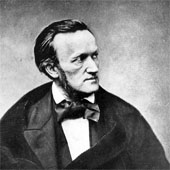 …showcasing music by the foremost 19th century composer who did not write for the pipe organ, Richard Wagner (1813-1883).
Hear about our upcoming show Pipedreams Live! Rochester, Part 2 (encore) , Program No. 1321 (5/27/2013)
Folks! Pipedreams is in España
Follow us
as we work through this beautiful European country, a historical country that oddly enough has an incredible organ scene, new and old. We will visit significant churches, organ builder workshops, and meet fabulous organists that are currently and who have formerly uplifted the Spanist organ culture.
We just made a stop up in the mountains to visit the beautiful Santa Maria de Montserrat to see another Blancafort organ, built in 2010. We will stay in Barcelona for another day and then will head off to the island Palma de Mallorca and then to the North-Central coast, the town of Bilbao.
You gotta follow us on
FACEBOOK
and visit our
tour page
.
Summer Fun!
Michael Barone makes personal appearances here and there, and would love to greet you at one of these upcoming events:
May 13–25, 2013
The tour bus is fully booked, but you're encouraged to check here for regular updates from Michael and his PIPEDREAMS friends during their adventures in Barcelona, Mallorca, the Basque country and Madrid.
Organ Day at Philadelphia's Kimmel Center
June 8, 2013 – 11 a.m. to 5 p.m.
Join Michael Barone and colleagues from the Philadelphia Chapter of the American Guild of Organists in a fun-for-the-family outing with the Fred J. Cooper Memorial Pipe Organ (by Dobson) in Verizon Hall, including a Children's Hour, silent films with organ accompaniment, the New City Brass Ensemble and other delights. And it all is FREE!
Longwood Gardens International Organ Competition
June 18–22, 2013
Join master-of-ceremonies Michael Barone for the preliminary (Tuesday/Wednesday) and final (Saturday) rounds of this prestigious new contest featuring ten of the world's top young aspiring concert artists in performances on the 10,010-pipe Aeolian organ in the Longwood Ballroom, competing for the largest cash prize of any organ competition in the world.
Washington National Cathedral Independence Day Concert
July 4, 2013 – 11 a.m.
Michael Barone again is host (for the third year) of the free July 4th performance featuring organists Benjamin Straley and Christopher Betts, pianist Jeremy Filsell, and the U.S. Navy Band Sea Chanters. Join the throng for an exciting morning of music.
Wyomng Seminary Performing Arts Institute
July 12, 2013 – 8 p.m.
Michael Barone, making a rare, and modest, appearance at the console, teams up with featured soloist Mark Laubach, guest conductor Timothy Foley and the WSPAI Wind Ensemble for a concert of works for band and pipe organ, featuring the Berghaus instrument at St. Stephen's Episcopal Church (35 South Franklin Street) in Wilkes-Barre, PA. Free.
In the spotlight

2010 Parkey organ, Opus 11, at First Presbyterian, Gainesville, Georgia
National broadcasts of Pipedreams are made possible with funding from Mr. and Mrs. Wesley C. Dudley, MAHADH Fund of HRK Foundation, by the contributions of listeners to American Public Media stations, and by the Associated Pipe Organ Builders of America, APOBA, representing designers and creators of fine instruments heard throughout the country, on the Web, and toll-free at 800-473-5270.