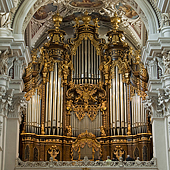 1981 Eisenbarth great organ at Passau Cathedral, Germany
Reach Out and Touch!
It's a game of getting-to-know-you. First a few notes, then some others and before you know it, we're into a new adventure in sound. For hundreds of years, players have explored the limits of their instruments and of their own techniques in works that evolved from the sheer tactile pleasure of pushing down the keys and seeing what happens. Marius Monnekendam in the Netherlands, Robert Elmore in the United States, Girolamo Frescobaldi of Italy, J.S. Bach in Germany and many others have written some of their most exciting music following this scheme.
Tactile and tantalizing, our program explores four hundred years of repertoire, instruments from three centuries, and the delights of things done by hand. Better than a good massage, with a tingling sensation guaranteed, we Reach out and Touch the Art of the Toccata, this week on Pipedreams.

Listen to the program
Program Broadcast dates:
Music played in the program
GIROLAMO FRESCOBALDI: Toccata prima. THÉODORE DUBOIS: Toccata in G –Helga Schauerte (1981 Eisenbarth/Dom St. Stephan, Passau, Germany) Syrius CD-141310
GIROLAMO FRESCOBALDI: Toccata per le levatione, from Messe della Madonna –Sergio Vartolo (1475 da Prato/Basilica di San Petronio, Bologna, Italy) Tactus CD-580690
ALESSANDRO SCARLATTI: Toccata Number 9 –Massimo Nosetti (1780 Callido/Santa Maria Maggiore, Dardago, Italy) Syrius CD-141305
JOHANN LUDWIG KREBS: Toccata in a –Felix Friedrich (1739 Trost/Altenburg Castle Chapel, Germany) Querstand CD-9712
J.S. BACH: Toccata in F, S. 540 –W. Randolph Bourne (1977 Brunzema-Casavant Frères/Maternity of the BVM RCC, Saint Paul, MN) Ten Thousand Lakes CD-113
GEORG MUFFAT: Toccata Sexta in F, from Apparatus Musico-Organisticus, 1690 –Elisabeth Ullmann (1731 Egedacher/Cistercian Monastery, Zwettl, Austria) Dabringhaus und Grimm MDG 320 0529
MARIUS MONNIKENDAM: Toccata [1935] –Jaap Kroonenburg (1732 Garrels/Grote Kerk, Maassluis, The Netherlands) Lindenberg LBCD-87
ROBERT ELMORE: Toccata, from Sonata for Organ [1975] –Robert Plimpton (1915 Austin/Spreckels Organ Pavilion, Balboa Park, San Diego, CA) Spreckels Organ Society CD-4
JOHANN PACHELBEL: Toccata in e –Peter Reichert (1988 Metzler/Stadtkirche St. Nikolaus, Bremgarten, Switzerland) Motette CD MOT 11931
JOHANN JACOB FROBERGER: Toccata XI, per l'Elevatione –Bernard Lagacé (1981 C.B. Fisk/Wellesley College, Wellesley, MA) Titanic CD-207
ALBERT RENAUD: Toccata in d. HENRI MULET: Carillon-Sortie in D –Jane Parker-Smith (1979 Danion-Gonzalez/Cathédrale, Beauvais, France) ASV CD-610