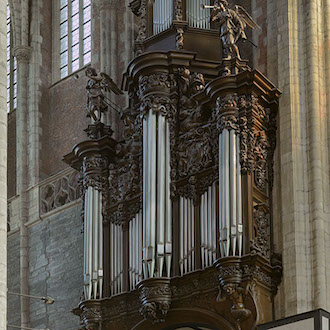 1935 Klais/Sint-Baafskathedraal, Ghent
Beauty in Belgium
…recalling favorite instruments from the 2018 Pipedreams Tour in the Low Countries.
Listen to the program
For the convenience of those of you with mobile devices, now you can listen to our PIPEDREAMS audio at http://www.yourclassical.org!
Program Broadcast dates:
Links and Resources:
Music played in the program
Hour 1
CÉSAR FRANCK: Pièce héroique –Els Biesemans (1910 van Bever/Dominican Church, Brussels) Etcetera 1299
DIEUDONNÉ RAICK: Andante, fr Suite No. 2. CHARLES VAN HELMONT: Fugue in g –Joris Verdin (1780 Van Peteghem/Sint-Lievenskerk, Houtem) Rene Gailly 88801
CAMIL VAN HULSE: Intermezzo & Finale, fr Symphonia Mystica –Ignace Michiels (1935 Klais/Sint-Salvatorkathedraal, Brugges) AMP 30703
EDGARD HOOGHUYS: 2 Dances (Pour un baisier de toi Foxtrot; Jour de bonheur Waltz) (1908 Hooghuys 'Prince Carnival' Band Organ/Art Academy Hall, Geraardsbergen) Hooghyys Festival 2015
ANONYMOUS (18th c.): 3 Pieces (Aria & Andante; Giga; Trompet bas) –Joris Verdin (1692 Goltfus/Sint-Jan-de-Dorperkerk, Leuven) Rene Gailly 88806
FLOR PEETERS: Flemish Rhapsody –Peter Pieters (1958 Stevens/St. Rombauts Cathedral, Mechelen) AMP 11519
Filler – HELONT (see above)
Hour 2
J. S. BACH: Overture, fr Goldberg Variations, BWV 988 –Aurélien Fillion (1662 Royer-2007 Potvlieghe/Sint-Pieterskerk, Turnhout) OrganRoxx 01
BACH: 3 Pieces (Herr Gott, nun schleuss den Himmel auf, BWV 617; Wo soll ich fliehen hin, BWV 646; Prelude in a, BWV 543) –Paul de Maeyer (1974 Flentrop/Sint-Niklaaskerk, Ghent) Tulip Records 600605
PAUL de MAEYER: Variations on Lied van mijn land (Overture-Tango-Waltz-Aria-Foxtrot) –Paul de Maeyer (1873 Forrest-2003 Pels & Van Leeuwen/Sint-Stefanuskerk, Ghent) Orgelkunst 2017
JOHAN de GRUIJTTERS: 3 Pieces (March-Ceciliana-Allegro) –Johannes Geffert (1732 Forceville-1996 Potvlieghe/Sint-Pauluskerk, Antwerp) LCS 003
JACQUES LEMMENS: Allegro moderato (i.) & Fuga (iv.), fr Sonata Pontificale –Xavier Deprez (1849 Loret/Notre-Dame du Finistère, Brussels) SIC 006
FLOR PEETERS: Lied to the Sun, fr Lied Symphony, Op. 66 –Edward De Geest (1935 Klais/Sint-Baafskathedraal, Ghent) De Geest 2016
Filler – FRANCK (see above)
Thanks to our Belgian organ guides, Paul De Maeyer and Rachel Perfecto, whose attentive hospitality made for memorable experiences by our PIPEDREAMS tour group. Find more details about our May 2018 adventure here. And enjoy additional instruments and music from the Low Countries with this program from our archive: A Belgian Bounty - #1801
More organ music can be explored with the Belgian-based online stream OrganRoxx, managed by Nico Declerck.

PIPEDREAMS is supported by the generosity of Mr. & Mrs. Wesley C. Dudley, by grants from Walter McCarthy, Clara Ueland, and the Greystone Foundation, the Art and Martha Kaemmer Fund of the HRK Foundation, and Jan Kirchner on behalf of her family foundation. Additional support comes from C. B. Fisk, Inc. of Gloucester, MA, and Foley-Baker, Inc. of Tollund, CT, members of APOBA, the Associated Pipe Organ Builders of America, a collaborative of designers, creators, and maintainers of pipe organs found in religious and educational institutions, concert halls, and residences throughout the United States and beyond. An APOBA resource guide and member prospectus is available at APOBA.COM.