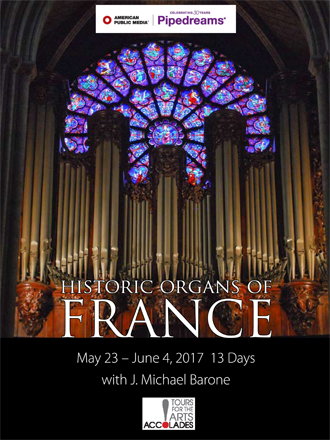 Click here for the full online tour book!
Pipedreams Friends:
Our upcoming PIPEDREAMS Tour (May 23-June 4, 2017) in France is SOLD OUT. We'll begin and end in Paris, with additional visits to Orleans, Chartres, Rouen, Evreux, Dieppe, Amiens, Reims and Beauvais. In addition to the many pipe organ experiences, we'll also attend a concert performance of Mahler's Resurrection Symphony at the new Philharmonie de Paris.

Come early or stay late to enjoy the other more usual treats that France has to offer, but don't miss out on this extraordinary journey through the history of organ music in France! Sign up now!!

For an in depth look at our itinerary, check here!

Should you be curious, get on our mailing list to receive more information or contact Janet Tollund at Group Travel Directors (jtollund@gtd.org)
We look forward to traveling with you.
Michael Barone