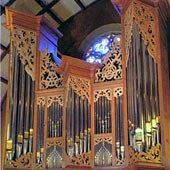 1987 Rosales organ at Trinity Episcopal Cathedral, Portland, Oregon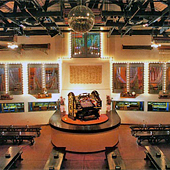 Wurlitzer organ at Organ Stop Pizza, Mesa, Arizona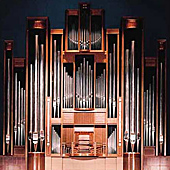 1992 C.B. Fisk organ, Opus 100, at Meyerson Symphony Center, Dallas, Texas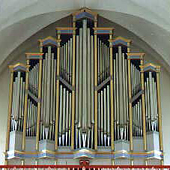 1987 Gronlunds organ at Domkyrka, Luleå, Sweden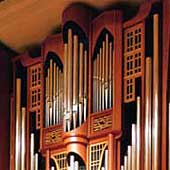 1997 C.B. Fisk organ, Opus 110, at Minata Mirai Concert Hall, Yokohama, Japan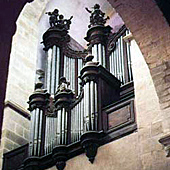 1783 Clicquot organ at the Prieuré Saint-Pierre-et-Saint-Paul, Souvigny, France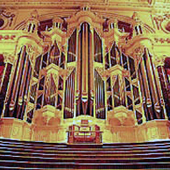 1890 Hill organ at Sydney Town Hall, Australia
The Joke's On Us
…share in humoresques, scherzos, fantasies and other compositions done up with a sense of fun and surprise. Who says the organ must always be so serious.
It's not all solemn processionals. The king of instruments does have a sense of humor, too, as you'll discover on our next Pipedreams program, where wry wit, sardonic satire, and a general joviality prevail. Bill Albright's nifty narration provides a key element, as do songs by Stephen Sondheim and Henry Mancini, scherzos and fantasies played in Souvigny and San Francisco, and a humerous hornpipe played in Sydney Australia. That's but part of the fun.
We'll also sample concert instruments in Dallas and Yokoyama, theatre organs in Kansas and Arizona, and one of the finest French antiques from the 18th century, still capable of a big smile. Curious chords prove that the Joke is On Us - humoresques for organ, this week on Pipedreams.
Listen to the program
Program Broadcast dates:
•October 15, 2001 as Show #0142
•May 14, 2007 as Show #0720
Links and Resources:
Music played in the program
CHARLES IVES: Variations on America –Hans-Ola Ericsson (1987 Grönlunds/Luelå Cathedral, Sweden) BIS-CD-510
LOUIS VIERNE: Scherzo, from Symphony Number 6, Opus 59 –David Craighead (1987 Rosales/Trinity Episcopal Cathedral, Portland, OR) Delos DE 3096
GUY BOVET: Noël de Moulins, from Suite pour Souvigny [1994] –Thilo Muster (1783 Clicquot/Église Saint-Peter-et-Paul, Souvigny, France) Gallo CD-863/4
NOEL RAWSTHORNE: Hornpipe Humoresque –Willibald Guggenmos (1890 Hill/Town Hall, Sydney, Australia) Motette CD MOT 12591
ALEXANDRE GUILMANT: Fantasie, Opus 19 –Ursula Hauser (1897 Kuhn/Church of Saint Johann, Schaffhausen, Switzerland) Pan Classics CD-510049
HENRY MANCINI: The Baby Elephant Walk –Charlie Balogh (Wurlitzer/Organ Stop Pizza, Mesa, AZ) ERB Enterprises 106
CLARENCE MADER: Afternoon of a Toad –Cherry Rhodes (1992 C.B. Fisk/Meyerson Symphony Center, Dallas, TX) Pipedreams PD CD-1002
JEAN LANGLAIS: Scherzo-Cats –James Dale (1981 Möller/United States Naval Academy, Annapolis, MD) Pines CD-102
SIEVER/MORTON (arranged by Torch): A Cuckoo in the Nest –Sidney Torch (1928 Christie/Regal Cinema, Marble Arch, London, England, UK) Sterndale CD-1002; Jelani Eddington (1928 Kimball/Dickinson High School Auditorium, Wilmington, DE) DTOS CD-7050
ANNIK CHARTREUX: Clowny, from Jazz a quatre –Alain Delcambre, Jean-Philippe Mesnier (1981 Mühleisen/Notre Dame Church, Douai, France) BF CD-940913
TED FIORITO: Laugh, clown, laugh –George Wright (1929 Wurlitzer/Fox Theatre, San Francisco, CA) Banda CD-9211
STEPHEN SONDHEIM: Send in the clowns, from A Little Night Music –Lyn Larsen (1926 Wurlitzer/Century II Convention Center, Wichita, KS) Pro Arte CD-339
MAX REGER: Scherzo, Opus 65, number 10. JOSEPH JONGEN: Menuet-Scherzo, Opus 53, number 2 –Dame Gillian Weir (1969 Aeolian-Skinner/Uihlein Hall, Marcus Center for the Performing Arts, Milwaukee, WI) Koss CD-1013
WILLIAM ALBRIGHT: The King of Instruments –Michael Barone, narrator; Douglas Reed (1997 C.B. Fisk/Minato Mirai Hall, Yokohama, Japan) Equilibrium CD-35
Filler –CLARENCE MADER: (see above)