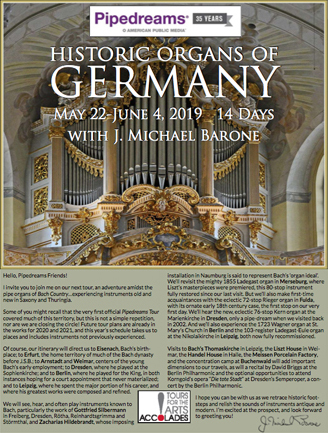 Click here for the full online tour brochure!
Pipedreams Friends:
This year's Historic Organs of Germany tour (May 22 – June 4, 2019) surprised us greatly by selling out within three weeks of its announcement. As a result, some of our regular respondents found themselves on a lengthy waitlist. And you might have missed out on a great opportunity yourself!.
Clearly there is great interest among the Pipedreams community in learning about the organs in 'Bach Country'. With that in mind, we are considering a repeat of the May/June tour, and looking at the dates of September 19 – October 2, 2019.
Because of various other considerations, this tour would be two days shorter than the one this spring, though the most important organs and venues would be retained.
We're taking a poll to discover the extent of your interest in this second tour to Germany. If the interest is sufficient, we will proceed in making a specific plan. The May/June tour brochure is available for your review by clicking the link to the right.
Thanks! Based on your SPEEDY response, we will proceed with another tour – or not!
With kind regards,
Michael Barone