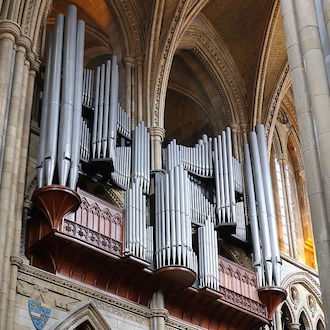 1887 Willis/Truro Cathedral, England
To End All Wars (II)
…more music made in time of war, in reflection on war, and in commemoration of the centenary of the November 11, 1918 Armistice.
Listen to the program
For the convenience of those of you with mobile devices, now you can listen to our PIPEDREAMS audio at http://www.yourclassical.org!
Program Broadcast dates:
Week of November 12, 2018
Links and Resources:
Music played in the program
Hour 1
MARCEL DUPRÉ: Poeme héroïque, Op. 33 (1936) –Ben van Oosten (1928 Skinner-1998 Mander/University Chapel, Princeton, NJ) MG&D 316 1289
GUSTAV HOLST: Turn back, o man –Winchester Cathedral Choir/Andrew Lumsden, director; Jonathan Hope (1988 Harrison/Winchester Cathedral, England) Regent 437
HERBERT HOWELLS: Rhapsody in c#, Op. 17, no. 3 –Scott Farrell (1989 Mander/Rochester Cathedral, England) Regent 507
HOWELLS: Psalm Prelude No. 3, Set 1 (Yea though I walk through the valley of the shadow of death) –Christopher Dearnley (1977 Mander/St. Paul's Cathedral, London, England) Hyperion 66394
RALPH VAUGHAN WILLIAMS: Lord, thou has been our refuge –Truro Cathedral Choir/Christopher Gray, director; Claude Lamon, trumpet; Luke Bond (1887 Willis/Truro Cathedral, England) Regent 451
CHARLES-MARIE WIDOR: Salvum fac populum tuum, Op. 84 (1917) –Philadelphia Brass; Joan Lippincott (1992 Mander/University Chapel, Princeton, NJ) Gothic 49072
Filler – ELGAR (trans. Blair): Carillon, Op. 75
Hour 2
HUBERT PARRY: Eventide (Abide with me), No. 5 fr 7 Chorale Preludes, Set 2 (1916) –Robert Benjamin Dobey (1933 Aeolian-Skinner/Girard College Chapel, Philadelphia, PA) Pro Organo 7059
CHARLES VILLIERS STANFORD: Organ Sonata No. 2 in g, Op. 151 (Eroica) (1917) –Eric Plutz (1991 Mander/University Chapel, Princeton, NJ) Pro Organo 7203
LEO SOWERBY: Requiescat in pace (1920) –Robert Parris (1927 Skinner/St. Paul's Episcopal Church, Rochester, NY) Premier 1039
HERBERT BREWER: Marche Heroique (1913) –Christopher Jacobson (1930 Aeolian/Duke University Chapel, Durham, NC) Pentatone 5186577
Filler – PARRY: Elegy in C

Continuing support of PIPEDREAMS is provided in memory of Wesley C. Dudley by his family, with additional support from Walter McCarthy, Clara Ueland, and the Greystone Foundation, by Jan Kirchner on behalf of her family foundation, by the Art and Martha Kaemmer Fund of the HRK Foundation, in celebration of the life of Martha Hulings Kaemmer, and by listener-contributors to this public radio station. Additional support comes from Andover Organ Company of Methuen, MA, and Bedient Pipe Organ Company of Roca, NE, members of APOBA, the Associated Pipe Organ Builders of America, a collaborative of designers, creators, and maintainers of pipe organs found in religious and educational institutions, concert halls, and residences throughout the United States and beyond. An APOBA resource guide and member prospectus is available at APOBA.COM.