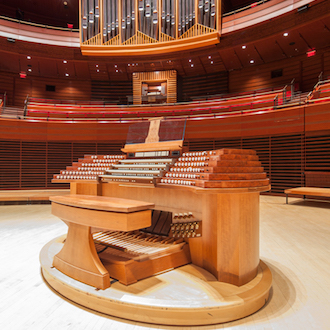 2006 Dobson/Kimmel Center, Philadelphia, PA
More Concerts at the Kimmel Center
…archive performances on the Fred J. Cooper Memorial Pipe Organ (by Dobson) in Philadelphia's Verizon Hall.
Listen to the program
For the convenience of those of you with mobile devices, now you can listen to our PIPEDREAMS audio at http://www.yourclassical.org!
Program Broadcast dates:
Links and Resources:
Music played in the program
Hour 1
G. F. HANDEL: Organ Concerto in F, Op. 4, no. 5 –Marilyn Keiser (r. 11/5/11)
STEPHEN PAULUS: Grand Concerto for Organ and Orchestra (2004), plus encore of A Refined Reflection, fr Baronian Suite (2013) – Philadelphia Orchestra/Yannick Nézet-Séguin, conductor; Ken Cowan (2006 Dobson/Kimmel Center, Philadelphia, PA) Pipedreams Archive (r. 11/8/14)
PYOTR TCHAIKOVSKY: Polonaise, fr Eugene Onegin –Wayne Marshall (r. 3/14/07)
FILLER: Paulus Grand Concerto, finale (see above)
Hour 2
MARCEL DUPRÉ: Intermezzo & Toccata, fr Deuxième Symphonie, Op. 26 –Bryan Anderson (r. 6/9/12)
NADIA BOULANGER: Prelude in f –Paul Jacobs (r. 5/8/10)
CAMILLE SAINT-SAËNS: Symphony No. 3 in c, Op. 78 (Organ) –Philadelphia Orchestra/ Yannick Nézet-Séguin, conductor; Paul Jacobs, organist. Pipedreams Archive (r. 11/17/16)
FILLER: Paulus Grand Concerto, 1st movement (see above)
The 6,938-pipe Fred J. Cooper Memorial Pipe Organ (2006 Dobson, Opus 76) is featured throughout. Experience it in-person during the upcoming Philadelphia Organ Day (11 a.m. to 4:30 p.m.) on June 23, 2018. Michael Barone is master-of-ceremonies for family-friendly performances of organ solos, ensemble pieces and silent films featuring members of the Philadelphia Chapter of the American Guild of Organists, students of the Curtis Institute, and members of the Philadelphia Brass, Opera Philadelphia, the Chamber Orchestra of Philadelphia, and Pennsylvania Ballet. See you there!
Enjoy an extra program with Wayne Marshall at the Kimmel Center: The Marshall Plan (#1017)

PIPEDREAMS is supported by the generosity of Mr. & Mrs. Wesley C. Dudley, by grants from Walter McCarthy, Clara Ueland, and the Greystone Foundation, the Art and Martha Kaemmer Fund of the HRK Foundation, and Jan Kirchner on behalf of her family foundation. Additional support comes from Integrated Organ Technologies, Inc. of Roswell, GA, and Kegg Pipe Organ Builders of Hartville, OH, members of APOBA, the Associated Pipe Organ Builders of America, a collaborative of designers, creators, and maintainers of pipe organs found in religious and educational institutions, concert halls, and residences throughout the United States and beyond. An APOBA resource guide and member prospectus is available at APOBA.COM.