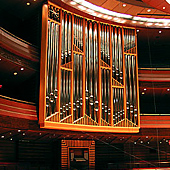 2006 Dobson organ at Kimmel Center for the Performing Arts, Philadelphia, Pennsylvania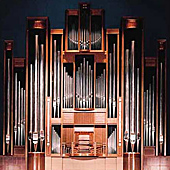 1992 C.B. Fisk organ, Opus 100, at Meyerson Symphony Center, Dallas, Texas
The Marshall Plan
…performances by and conversation with one of today's most dynamic organ virtuosos, Wayne Marshall.
Listen to the program
1 hr 58 min
59:00 min
59:00 min
Program Broadcast dates:
Links and Resources:
Music played in the program
Hour 1
ALFRED HOLLINS: Concert Overture in c –Wayne Marshall (1962 Harrison & Harrison/Coventry Cathedral, England, UK) EMI Classics CDC 63490
LEONARD BERNSTEIN: Wonderful Town Overture. GIUSEPPE VERDI: La Traviata Prelude. JOHANN STRAUSS II: Die Fledermaus Overture –Wayne Marshall (Fred J. Cooper Memorial Organ [2006 Dobson]/Verizon Hall at the Kimmel Center for the Performing Arts, Philadelphia, PA) Pipedreams Archive recorded March 14, 2007
WAYNE MARSHALL: Improvisation on Suggested Themes, after Wagner, Arne and Bernstein. Pipedreams Archive recorded March 14, 2007
Filler –GIUSEPPE VERDI (see above)
Hour 2
PAUL DUKAS: La Péri Fanfare –Wayne Marshall (1894 Hill; 1982 Harrison & Harrison/Peterborough Cathedral, England, UK) Virgin Classics 61703
VINCENT YOUMANS (arranged by Wayne Marshall): Tea for Two. BILLY STRAYHORN (arranged by Wayne Marshall): Take the A-Train. GEORGE GERSHWIN (arranged by Wayne Marshall): I'll build a stairway to paradise, from Scandals of 1922. GEORGE GERSHWIN: I loves you, Porgy, from Porgy & Bess –Wayne Marshall (1992 C.B. Fisk/Meyerson Symphony Center, Dallas, TX) Delos DE 3228
FRANCIS POULENC: Concerto in G-minor for Organ, Strings and Timpani [1938] –Munich Symphony Orchestra, Johannes Skudlik, conductor; Wayne Marshall (1983; 2003 Schmid/Stadtpfarrkirche Mariä Himmelfahrt, Landsberg am Lech, Germany) Motette CD MOT 40301
In addition to his work as pianist and conductor, Mr. Marshall presents regular concerts as resident organist on the Marcussen pipe organ at Bridgewater Hall in Manchester, England.
Filler –GEORGE GERSHWIN I loves you Porgy (see above)