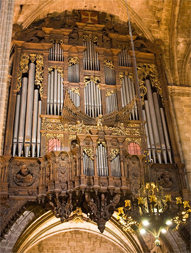 1994 Blancafort at Holy Cross Cathedral, Barcelona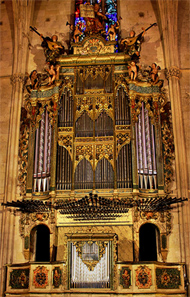 2008 Grenzing organ at Convent de Sant Francesc, Palma, Spain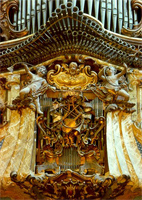 1765 Bosch organ at Parròquia de St. Andreu, Santanyi, Spain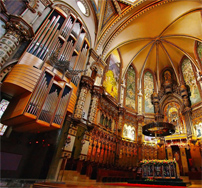 1968 Blancafort at the Montserrat Monastery
Our Spanish Steps
…an introduction to the Iberian organ experience in anticipation of our upcoming Pipedreams Tour!
Program Broadcast dates:
Links and Resources:
Music played in the program
Hour 1
ALBERICH I VILA: Tiento on the 2nd Tone. NARCIS CASANOVES: Sonata de corneta i de clarins –Montserrat Torrent (1994 Blancafort/Holy Cross Cathedral, Barcelona) Discant 1001
JOAN SALO: 5 Kyrie Verses. CARLOS BAGUER: Prelude –Scola de la Companyia Musical/Josep Cabré, director; David Malet (1994 Blancafort/Holy Cross Cathedral, Barcelona) Discant 1010
ANONYMOUS (19th c.): Pastorale. ANTONI MATHEU: Batalla –Arnau Reynès Florit (2008 Grenzing/Basilica de Sant Francesc, Palma de Mallorca) Priory 1013
LUIS URTEAGA: 3 Pieces (Preludio; Meditacion; Pequeòa Toccata), fr Ofrenda al Beato Pio X –Esteban Elizondo Iriarte (1868 Cavaillé-Coll/Iglesia San Vicente, San Sebastian) Aeolus 10581
ANTONIO VALENTE: La Romanesca –E. Power Biggs (1778 Davilla-Bosch/Royal Palace, Madrid) CBS 7109
FELIX MAXIMO LOPEZ: Verse on the 2nd Tone; Pastorela. PEDRO de ARAUJO: Batalha on the 6th Tone –Michal Novenko (1765 Bosch/Santanyi Church, Palma de Mallorca) Priory 864
Hour 2
J-F DANDRIEU: En cors de chasse. PADRE ANTONIO SOLER (arr. Biggs): The Emperor's Fanfare –E. Power Biggs (Emperor's Organ/Cathedral of Saint Mary, Toledo) CBS 7109
SOLER: Concerto No. 4 in F (1st mvt.) –Maria Lluôsa Cortada, harpsichord; Montserrat Torrent (1968 Blacafort/Montserrat Monastery) Discant 1003
FRANCISCO CORREA de ARAUXO: Lauda Sion Versets; Tiento No. 2 on the 4th Tone –Capella Sancti Michaelis/Erik van Nevel, director; Bernard Foccroulle (1985 Collon/St Lambert Church, Brussels-Woluwé) Ricercar 070056
MICHAL NOVENKO: Good tidings are announced. ANTONI MARTORELL: Ti esalto. RICHARD STEHLIK: Toccata –Michal Novenko (2008 Grenzing/Basilica de Sant Francesc, Palma de Mallorca) Priory 1014
JESUS GURIDI: Variations on a Basque Theme –Esteban Elizondo (1898 Cavaillé-Coll/Santa Maria la Real, Azkoitia) Motette 11341
NAJI HAKIM: Rhapsody for Organ Duo –Beatrice-Maria & Gerhard Weinberger (1999 Grenzing/Catedral de la Almudena, Madrid) Ars Musici 1338
Spain is the destination of our next PIPEDREAMS Tour (May 13-25, 2013)
. We will visit Barcelona, Palma de Mallorca, the Basque region (San Sebastian and Usurbil), Burgos, Toledo, Lerma and Madrid. In addition to historic 17th and 18th century organs (including several by Jordi Bosch), we'll explore the important Basque installations by famed Parisian builder Aristide Cavaillé-Coll and visit the shop of Gerhard Grenzing, whose restorations and new-made instruments are at the heart of the Spanish organ art today. Want to join us?
Sign up now
!