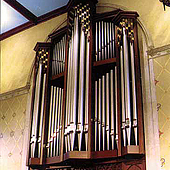 1966 Schantz; 1996 Parkey organ at Atlanta's Central Presbyterian Church.
Pipedreams Live! In Atlanta
It's all about friends having fun. On this week's Pipedreams program, Sarah Hawbecker plays the urban and urbane music of Leo Sowerby, Timothy Albrecht and John Cook. Alan Morrison explores works by Atlanta-based composer William Krape. Norman Mackenzie performs a virtuoso sonata written for him when he was just a younger guy, and Elizabeth and Raymond Chenault prove that a harmonious home life also leads to lively harmonies at the organ console, when American Public Media host Michael Barone visits with five of Georgia's finest recitalists in a special program recorded in 1998 at Central Presbyterian Church.
Program Broadcast dates:
Links and Resources:
Music played in the program
JOHN COOK: Fanfare. TIMOTHY ALBRECHT: 2 Grace Notes: Evening Prayer; Softly and tenderly. LEO SOWERBY: Fast and sinister, from Symphony in G –Sarah Hawbecker
WILLIAM KRAPE: Chorale Triptych: Wachet auf; Liebster Jesu; Christ ist erstanden. WILLIAM KRAPE: Tintinabulation –Alan Morrison
ROBERT ELMORE: Sonata for Organ –Norman Mackenzie
CHARLES CALLAHAN: Ragtime. TRADITIONAL (arranged by Charles Callahan): Londonderry Air. JOHN PHILIP SOUSA (arranged by Chenault): The Stars and Stripes Forever –Elizabeth and Raymond Chenault
These performances were recorded live, June 7, 1998, on the 1966 Schantz; 1996 Parkey organ, IV/63s, at Atlanta's Central Presbyterian Church. The event was co-sponsored by the Atlanta Chapter of the American Guild of Organists and public radio station WABE-FM in celebration of its 50th anniversary year. Read more about Pipedreams Live! guest appearances by Michael Barone.