Pipedreams Live! In Atlanta
From program
2018 - Read
Musician Biographies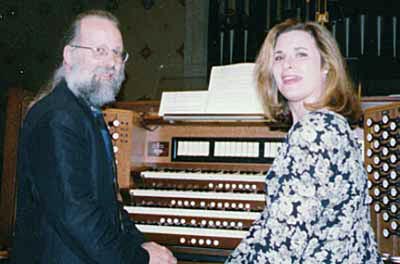 They smiled when he sat down to play (they did, but he didn't . . . play, that is):
Michael Barone and Pipedreams Live! in Atlanta host and sponsor Lois Reitzes (of
WABE-FM 90.1) at the Parkey organ console at Central Presbyterian Church, Atlanta.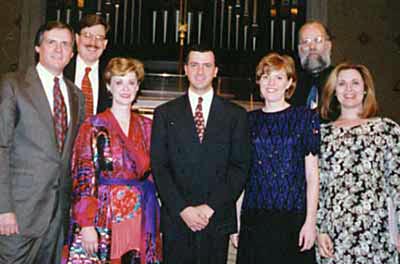 Partners in crime (l to r): Raymond Chenault, Norman Mackenzie, Elizabeth Chenault, Alan Morrison, Sarah Hawbecker, Michael Barone, and Lois Reitzes
Learn how to host Pipedreams in your area!
SARAH HAWBECKER is an active recitalist, full-time church musician, and recipient of awards in numerous competitions, including: 1996 and 1998 National AGO Young Artists Competitions (3rd prize); 1992 Spivey International Organ Competition (finalist); 1991 Atlanta AGO Young Artists Competition (1st prize); 1991 Southeastern Regional AGO Competition (2nd prize); 1998 Undergraduate Organ Competition, Ottumwa, IA (1st prize). Ms. Hawbecker has concertized throughout the Midwest and Southeast. She holds a Master of Music degree from the Eastman School of Music, and a Bachelor of Music degree from Saint Olaf College. Her principal teachers were Russell Saunders and John Ferguson. Ms. Hawbecker is Organist and Director of Music for Children and Youth at the
Lutheran Church of the Redeemer in Atlanta, and teaches with the Neighborhood Music Schools of Georgia State University.
ALAN MORRISON has become one of the most sought-after concert organists of his generation. A native of Atlanta, where he studied with Sarah L. Martin, he holds degrees from the Curtis Institute of Music and the Juilliard School where his principal teacher was John Weaver. He was awarded the Silver Medal at the 1994 Calgary International Organ Competition, and First Prizes in the Clarence & Ruth Mader and Arthur Poister National Organ Competitions. He has concertized extensively in New York City (Alice Tully Hall), Dallas (Meyerson Symphony Center), Atlanta (Spivey Hall), Calgary (Jack Singer Concert Hall), San Diego (Spreckels Organ Pavilion) and Garden Grove, California (Crystal Cathedral). He has been featured in two national conventions of the American Guild of Organists. Alan lives in Philadelphia and is Music Director of the historic First Baptist Church and organist at Ursinus College. He is under exclusive management of
Karen McFarlane Artists, Inc.
NORMAN MACKENZIE, a native of Philadelphia, studied with pianist Marion Filar, and made his debut with the Philadelphia Orchestra at age 12. At 16, he was the youngest finalist in the AGO National Young Artist Competition, and at 20 made his symphonic organ debut with the Philadelphia Orchestra and his New York recital debut at Fifth Avenue Presbyterian Church. He holds degrees from the University of the Arts in Philadelphia and Westminster Choir College. Mr. Mackenzie is Assistant Conductor for Choruses for the Atlanta Symphony Orchestra, and serves on the orchestra's keyboard staff. He is also Music Director/Organist for Trinity Presbyterian Church, Atlanta, and maintains an active recital and guest conducting schedule. He served as musical assistant and principal accompanist for the Robert Shaw Chamber Singers and the annual Robert Shaw choral festivals. Norman premiered the Stephen Paulus Organ Concerto at the 1992 National Convention of the AGO.
ELIZABETH
and
RAYMOND CHENAULT are known internationally as premier duo-organists. Because of their unique and refreshing repertoire, combined with their exciting and sensitive artistry, they are in great demand. The Chenaults are Virginia natives who completed their undergraduate degrees at Virginia Commonwealth University, studying with Lawrence Robinson. Mr. Chenault received his Masters degree in organ from the Cincinnati Conservatory of Music in 1974, where Mrs. Chenault also studied with Wayne Fisher. Other teachers have included Harold Abmyer, Arthur Poister, and John Fenstermaker.
In 1974, Ray became a Fellow in Church Music at Washington Cathedral under Paul Calloway. The Chenaults have performed extensively in this country, England and Italy, and have recorded several compact discs for
Gothic Records. They serve jointly as Organists and Choirmasters at All Saints Episcopal Church, Atlanta, and teach at The Lovett School. The Chenaults are under the management of
Phillip Truckenbrod Concert Artists.