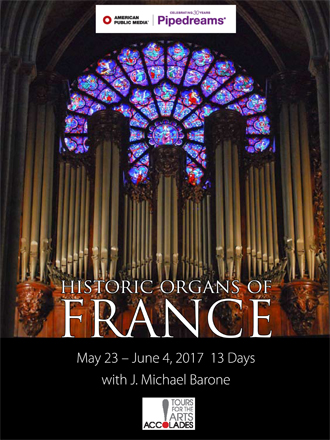 Click here for the full online tour book!
Pipedreams Friends:
Our 2017 PIPEDREAMS Tour in France (May 23-June 4, 2017) SOLD OUT. We began and ended in Paris, with additional visits to Orleans, Chartres, Rouen, Evreux, Dieppe, Amiens, Reims and Beauvais. In addition to the many pipe organ experiences, we also attended a concert performance of Mahler's Resurrection Symphony at the new Philharmonie de Paris.

For an in depth look at our tour book, check here! And check out photos from the Tour on our Facebook page, too.
ITINERARY
WED 24 MAY – Arrive Paris
Institute for the Blind, Salle Marchal
Aristide Cavaillé-Coll (1883), Beuchet-Debierre (1932), Gonzalez III/65 (1953)
THURSDAY 25 MAY – Paris
Attend Ascension Day service at Cathedral Notre Dame
Sainte-Clotilde Basilica
Grand Organ: Cavaillé-Coll (1859), Beuchet-Debierre (1932, 1956 and 1960, Bernard Dargassies)
Trinité Church
Grand Organ: Aristide Cavaillé-Coll III/46 (1868), Merkilin-Gutschenritter (1901), Pleyel-Cavaillé-Coll (1934), Beuchet-Debierre III/61 (1967)
Philharmonie Concert (Mahler 2nd Symphony)
FRIDAY 26 MAY – Paris
Saint-Augustin Church
Grand Organ: Charles Barker (1868), Cavaillé-Coll-Mutin (1899), Picaud/Beuchet (1961), Bernard Dargassies III/54(1988)
Madeleine Church
Grand Organ: Cavaillé-Coll, Father & Sons IV/48 (1846), Mutin (1927), Roethinger-Boisseau (1957), Danion-Gonzalez (1971), Bernard Dargassies IV/58, with 46 Cavailé-Coll stops (1988 and 1996)
Saint-Élisabeth de Hongrie
Grand Organ: Suret III/43 (1853), presented at the World's Fair (1855)
SAT 27 MAY – Paris to Chartres
Pithiviers, Saint-Salomon-Saint-Gregoire Church
Grand Organ: Jean-Baptiste Isnard (1784), Aristide Cavaillé-Coll (1890), Robert Boisseau III/50 (1960), Bertrand Cattiaux (2005)
Orléans Cathédral Sainte-Croix
Grand Organ: Callinet (1831), Cavaillé-Coll III/51 (1880), Bernard Hurvy (2007)
Choir Organ: Cavaillé-Coll II/18 (1846), Bernard Hurvy
Chartres Cathedral
1971 Gonzalez (IV+P/68s-98r)
SUN 28 MAY - Chartres to Rouen
Worship at Chartres Cathedral
Evreux Cathedral
Grand Organ: Pascal Quoirin IV/53 (2006)
Saint-Godard Church, Rouen
Grand Organ: Aristide Cavaillé-Coll II/30 (1884)
Choir Organ: Aristide Cavaillé-Coll II/15 (1885)


MON 29 MAY – Rouen
Saint-Ouen Abbey Church
(Grand Organ: Cavaille-Coll IV/64 (1890)
Saint-Rémi Church, Dieppe
Grand Orgue: Claude Parisot IV/45 (1739)
Saint-Michel Church, Bolbec
Grand Organ: Lesselier IV/39 (1631) – Boisseau-Cattiaux (1999)
TUE 30 MAY - Rouen/Reims
Charles-Nicolle Hospital Chapel Organ, Rouen
Organ: Guillaume Lessilier, I/8 (1631), built for the Saint-Nicolas Church in Rouen, transferred in 1801, restored by Benoist and Sarrelot (1981-85), Unequal temperament, pitch ¾ tone lower that 440 Hz.
Amiens Cathedral
Grand Organ: Pierre le Pescheur (1620), Abbey (1833), Cavaillé-Coll (1889), Roethinger III/57 (1936/1965)
Reims Cathedral Notre-Dame
Grand Organ: Victor Gonzalez IV/86 (1938)
WED 31 MAY – Reims
Notre-Dame Church in Epernay
Aristide Cavaillé-Coll organ, 1868 (34/III/P), restored by Bernard Hurvy 2000
Juvigny Saint-Didier Church in Juvigny
Jean de Villers and Jacques Carouge (1663), in Chalons-en-Champagne, in Juvigny since 1791, restored by Pascal Quoirin (III/29) and the Auditorium Organ in Bouzy
Basilica Saint-Rémi in Reims
Grand Organ: Bertrand Cattiaux III/45, French-Flemish style (2000)
THU 01 JUN - Reims/Paris
Laon Cathedral, Notre-Dame
Grand Organ: H. Didier III/54 (1898)
Beauvais Cathedral St. Pierre
Grand Organ: Danion-Gonzalez IV/77 (1979)
FRIDAY 2 JUNE – Paris
Saint-Gervais
Grand Organ: Pescheur III/41 (1601), Thierry (1649-1685)/Clicquot (1780), Dallery (1812), Gonzalez V/41 (1973); Case: Pierre-Claude Thiesse/sculptures by Jacques-François Fichon
Temple du Foyer de l'Âme
Grand Organ: Quentin Blumenroeder II/21 (2009)
Saint-Antoine des Quinze-Vingts Church
Grand Organ: Aristide Cavaillé-Coll (1894), Merklin (1909), Barberis (1983), III/47
Auditorium of Marcel Dupré's home
1899 Cavaillé-Coll, greatly expanded
SATURDAY 3 JUNE – Paris
Saint-Séverin Church
Grand Organ: Claude Ferrand (1748), Abbey Sons (1889), Alfred Kern/Philippe Hartmann IV/59 (1963), Quentin Blumenroeder (2013), voiced by Dominique Thomas and Jean-Marie Tricotteaux; Case: Dupré/Jacques-François Fichon (1745)
Choir Organ: Philippe Hartmann I/7 (1966); Case: Roger Chapelet (1966)
Notre-Dame-des-Champs
1877 Cavaillé-Coll, 1973 Schwenkedel, 2004 Fossaert (II/34)
Saint-Étienne-du-Mont
Grand Organ: Pescheur (1631), Clicquot (1777).Cavaillé-Coll (1862), Beuchet–Debierre IV/83 (1956) ; Case : Jean Buron (1631)
Farewell dinner at restaurant within walking distance of St. Sulpice
Saint-Sulpice Church
Grand Organ: Clicquot (1781), Aristide Cavaillé-Coll V/100 (1862); Case: Chalgrin (1776) – V/102
Should you be curious, get on our mailing list to receive more information or contact Janet Tollund at Group Travel Directors (jtollund@gtd.org)
We look forward to traveling with you.
Michael Barone