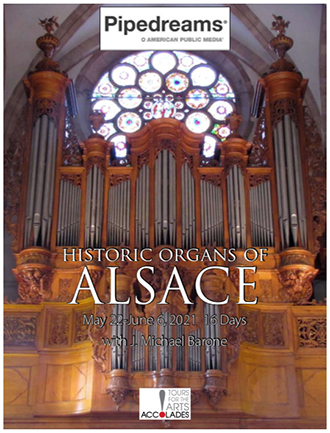 Alsace Tour: 2021
• For an in depth look at our tour brochure, check here!
• Should you be curious about future PIPEDREAMS tours, get on our mailing list to receive more information or contact Janet Tollund at Group Travel Directors (jtollund@gtd.org)
Hello, Pipedreams friends...
These are unprecedented times, with much uncertainty for all of us. Even so, beyond the unravelling of our plans in 2020, I want to be optimistic about 2021. So, despite the disappointment of our previous cancellation, since so much planning had been done on its behalf I'd like to take this opportunity to re-invite you to participate in that same Adventure in Alsace for the coming year.
The Alsacian region on the west bank of the Upper Rhine has been in an active cultural dynamic since the establishment of a wine-making industry there by the Romans in 58 BC. Since then, through the rules of Clovis and Lothar, Charles the Bald and Louis the German, and later as a result of realignments during the Holy Roman Empire, the culture has existed in a lively tension between German and French influences which happily now advantageously coexist in a balanced blend.
Certainly we all benefitted from the decision of Andreas Silbermann (1678-1734) to leave his native Saxony and learn the craft of organ building in Alsace, where his instruments represent a canny cohabitation of French éclat and German gravitas. Some of this style was transferred by his younger brother and apprentice Gottfried (1683-1753) when he returned home to work for the Saxon king, building stellar instruments quite unlike the central-German norm (which some of you may have seen and heard during our most recent PIPEDREAMS Tour).
This tension resurfaced at the turn of the twentieth century when Emile Rupp, a student of Widor and organist at St. Paul's Church in Strasbourg, entered into a heated debate with Adolphe Gessner, organist of the garrison church, St. Maurice, over the relative quality of the 'new' organs of the day (by primarily German builders) as compared with the 'vintage' French-leaning instruments from Silbermann and his son. Since these Silbermann organs also proved themselves as excellent vehicles for the music of Bach, it was not long before Albert Schweitzer, a native Alsacian from Gunsbach, joined in the fray, and the 'organ reform' movement was begun.
Perhaps you will be able to join me over a glass of Alsacian wine to discuss the distinct qualities of German and French instruments, the relative merits of historicity and progress, and the delight we all should celebrate in differences.
With hopes that the uncertainties of 2020 will be clarified in 2021, I invite you to consider coming along on our revived journey... an amazing Alsacian Adventure is guaranteed!
Michael Barone