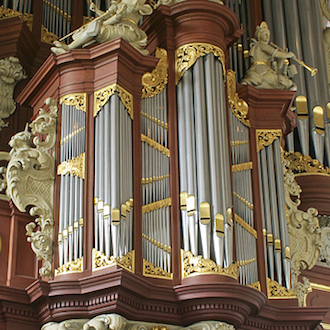 1727 Müller/Jacobijnerkerk, Leeuwarden, Netherlands
The New and the Old
…these recent releases embrace intriguing repertoire covering six centuries.
Listen to the program
1 hr 58 Min
59:00 Min
59:00 Min
For the convenience of those of you with mobile devices, now you can listen to our PIPEDREAMS audio at http://www.yourclassical.org!
Program Broadcast dates:
Links and Resources:
Music played in the program
Hour 1
ANTONIO de CABEZÓN: Tiento del primer tono –Léon Berben (1722 Möller/St. Andreas Church, Ostönnen, Germany) Aeolus 11171
GAETANO VALERI: Sonata No. 1 in C (Largo-Andante-Adagio); Sonata No. 4 in A (Largo) –Paolo Bottini (1750 Nacchini/San Giorgio Maggiore Basilica, Venice; 1812 Callido/San Floriano Parish, Pieve di Zoldo, Italy) Brilliant Classics 95559
J. S. BACH: Prelude & Fugue in a, BWV 551 –Cristina Garcia Banegas (1728 Cahman/Leufsta Bruk Church, Sweden) Footprint 103
TRADITIONAL (arr. Goff-Louprette): Irish Folk Tunes (The coming of spring; At home in the kitchen; When I can't sleep) –Ivan Goff, Uilleann pipes & Irish flute; Renée Anne Louprette (1993 Mander/St. Ignatius Loyola, New York, NY) G&L 2018
SAMUEL ROSSEAU: Scherzo –Hans Uwe Hielscher (1982 Oberlinger/Market Church, Wiesbaden, Germany) Tontrager 770091
HEALEY WILLAN: Elegy in E-flat, fr Rondino, Elegy & Chaconne (1956) –Damin Spritzer (1892 Willis/Hereford Cathedral, England) Raven 156
IVAN BOZICEVIC: Radiance –Ivan Bozicevic (2000 Zanin/Ascension Cathedral, Belgrade, Serbia) Edition Lilac 180727
Filler – VALERI: Sonata No. 1 in C (see above)
Hour 2
MACK GORDON: Wake up and live. HUGH MARTIN & RALPH BLANE: The boy next door –David Gray (Wurlitzer/Sanfilippo Place de Musique/Barrington, IL) Gray 2018
BACH (trans. de Jong): Halleluja, Stärk und Macht, BWV 29/3 –Euwe & Sybolt de Jong (1727 Müller/Jacobijnerkerk, Leeuwarden, Netherlands) De Jong 8
EDWARD BAIRSTOW: Meditation. JEAN LANGLAIS: Trio Sonata (1967) –Katelyn Emerson (2007 Andover/Christ Lutheran Church, Baltimore, MD) Pro Organo 7288
DOMENICO GABRIELI: Trumpet Sonata No. 4 in D –Pawel Hulisz, trumpet; Andrzej Szadejko (2013 Wegscheider/Holy Trinity Church, Gdansk, Poland) Szadjeko 2016
F. W. MARKULL: Nachspiel, Op. 62, no. 5 –Andrzej Szadejko (1841 Buchholz/St. Nikolai Church, Stralsund, Germany) MG&D 906 2048
NED ROREM: Rain of the Quaker Graveyard, fr Views from the Oldest House –Andrew Peters (1965-2015 Schantz/2nd Presbyterian Church, Saint Louis, MO) Regent 508
MAX REGER: Toccata and Fugue in d/D, Op. 59, nos. 5/6 –Felix Hell (1902 Walcker/Christuskirche, Lüdenscheid, Germany) MSR 1694
Filler – BACH (see above)
NOTE: Contrary to what Barone says in this program, Katelyn Emerson's 2016 NYACOP Award compact disc, Evocations (Pro Organo 7277), was made on the Aeolian-Skinner organ at Church of the Advent in Boston, where she was Associate Organist and Choirmaster at that time. She also first appeared on a Pipedreams program of "Rising Stars" (#1725). Her subsequent recording in Baltimore, Inspirations (Pro Organo 7288), excerpts from which are heard in this program, was made in conjunction with the 70th anniversary of the Andover Organ Company.

Continuing support of PIPEDREAMS is provided in memory of Wesley C. Dudley by his family, with additional support from Walter McCarthy, Clara Ueland, and the Greystone Foundation, by Jan Kirchner on behalf of her family foundation, by the Art and Martha Kaemmer Fund of the HRK Foundation, in celebration of the life of Martha Hulings Kaemmer, and by listener-contributors to this public radio station. Additional support comes from Paul Fritts & Company Organ Builders of Tacoma, WA, and Garland Pipe Organs, Inc. of Fort Worth, TX, members of APOBA, the Associated Pipe Organ Builders of America, a collaborative of designers, creators, and maintainers of pipe organs found in religious and educational institutions, concert halls, and residences throughout the United States and beyond. An APOBA resource guide and member prospectus is available at APOBA.COM.