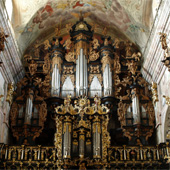 1680 Studzinski at Bernadine Basilica, Lezajsk

1970 Kaminski at Frombork Cathedral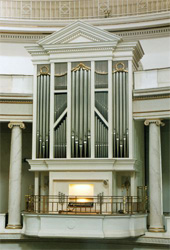 1998 Hillebrand at Augustinian Cloister, Warsaw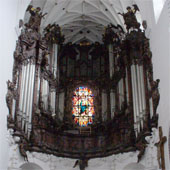 1968 Kaminski at Oliwa Cathedral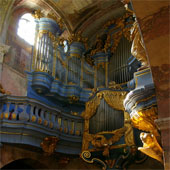 1745 Sitarski at Cistercian Abbey, Jedrzejow
A Polish Pilgrimage
…in anticipation of our upcoming group tour, here's a sampler of instruments in and compositions from the Republic of Poland.
Program Broadcast dates:
Links and Resources:
Music played in the program
Hour 1
J. S. BACH: Toccata and Fugue in d, BWV 565 –Anthony Newman (1680 Studzinski/Bernadine Basilica, Lezajsk) Helicon 1010
PIOTR DRUSINSKI: Veni Redemptor gentium. JULIAN GEMBALSKI: Romantic Fantasy on Queen of Poland for Ages Past –Julian Gembalski (1970 Kaminski/Frombork Cathedral) DUX 0413
JAKUB SOWA: Salve Regina. JAN of LUBLIN: Dance Suite –Jozef Serafin (St. John's Church, Kazimierz Dolny) Aulos 66132
FELIX BOROWSKI: Priere –Zygmunt Strzep (1998 Kuhn/St. Johannes Church, Altona-Hamburg, Germany) Plein Jeu 0210
MIECZYSLAW SURZYNSKI: Capriccio, Op. 36, no. 1 –Jerzy Dziubinski (1998 Hillebrand/Augustinian Cloister, Warsaw) DUX 0360
JULIUS LUCIUK: Marian Prelude –Roman Perucki (1968 Kaminski/Oliwa Cathedral) DUX 0271
Hour 2
BACH: Fugue on the Magnificat, BWV 733 –Jan Jargón (1977 Hammer/St. Nicholas Monastery, Gdansk). MIECZYSLAW SURZYNSKI: Improvisation on an Old Polish Church Song,Op. 38 –Joachim Grubich (1984 Truszczynski/St. Paul Monastery, Cracow) Aulos 66134
STEFAN WROCLAWSKI: 4 Organ Preludes. JAN of LUBLIN: Dance Suite –Robert Grudzien (1745 Sitarski/Cistercian Abbey, Jedrzejow) DUX 0322
JACOBUS PODBIELSKI: Prelude in d. WARSAW TABULATURE: Salve Regina Verses –Miroslawa Semeniuk–Podraza (1903 Falla/St. Nicholas Church, Cracow) Alos 66132
STANISLAW MONIUSZKO: Canonic Kyrie and Sancta Maria –Soltysik Singers; Roman Perucki (1996 Kaminski/St. Bridget's Church, Gdansk) DUX 0182
FELIKS NOWOWIEJSKI: Symphony No. 4, Op. 45 (1st movement) –Jerzy Erdman (1910 Klais/Church of St. Stephen, Beckum, Germany) cpo 999 274
The annual PIPEDREAMS Tour for 2015 ventures into Poland, a little-known territory, at least for us organ-lovers in the United States. We'll visit all of the instruments featured in this program, plus many others. Want to come along?