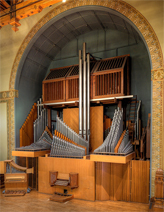 1950 Holtkamp organ at Setnor Auditorium, Crouse College, Syracuse University, New York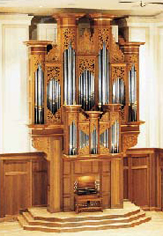 1995 Brombaugh organ at Memorial Chapel, Lawrence University, Appleton, Wisconsin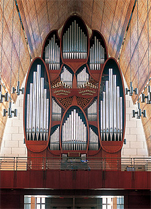 2001 Ruffatti organ at Miami's Church of the Epiphany, Florida
Earning the Prize
…in Miami (FL), Syracuse (NY), and Appleton (WI), young performers show how their special talents won them special notice.
Listen to the program
1 hr 58 Min
59:00 Min
59:00 Min
Program Broadcast dates:
Links and Resources:
Music played in the program
Hour 1
GEORG MUFFAT: Toccata No. 1, fr Apparatus musico-organisticus –Pawel Wróbel (3rd Prize).
J.S. BACH: Vivace, fr Trio Sonata No. 6 in G, BWV 530. JEANNE DEMESSIEUX: Attende Domine, Opus 8, no. 3. MARCEL DUPRÉ: Prelude & Fugue in B, Op. 7, no. 3 –Anne Lam (2nd Prize).
BACH: Vivace, fr Trio Sonata No. 2 in c, BWV 526. YUANKAI BAO (trans. Weicheng Zhao): Young girl carrying water on a shoulder pole. JOSEPH WALTER: Meditation on Salve, Festa Dies. MARCEL DUPRÉ: Variations on a Noël, Op. 20 –Weicheng Zhao (1st Prize).
These three soloists participated in the
2012 Miami International Organ Competition
(r. 3/2/12) and played the
2001 Ruffatti
pipe organ at Miami's Church of the Epiphany.
Watch
Weicheng Zhao's
prize-winning performance of the finale to Bartok's Concerto for Orchestra recorded during the 43rd Yamaha International Electone Organ Competition in Tokyo.
Hour 2
JEHAN ALAIN: Variations on a Theme of Clement Jannequin. PAUL HINDEMITH: Organ Sonata No. 1 (1937) –Adam Pajan (1950 Holtkamp/Setnor Auditorium, Crouse College, Syracuse University, NY) Pipedreams Archive (r. 9/25/11).
Mr. Pajan won the
2011 Arthur Poister Competition
sponsored by the
Syracuse Chapter
of the American Guild of Organists.
STEPHEN PAULUS: Concerto for Organ, Strings, Timpani and Percussion (1992) –Lawrence University Chamber Orchestra/David Becker, dir; Daniel O'Connor (1995 Brombaugh/Memorial Chapel, Lawrence University, Appleton, WI) Pipedreams Archive (r. 5/26/12).
Mr. O'Connor was winner of the
2012 Paul and Ruth Manz Scholarship
and the
2012 LSO Student Concerto Competition
.
Watch
the Youtube video of the Lawrence concert, including the Pauls Concerto.
A unique compact disc of the
Paulus Concerto
, featuring musicians who played its premiere, is available as
Pipedreams CD-1003
.
Enjoy additional youthful organist on
April 9
at the University of Kansas, Lawrence, when Michael Barone is host for a special
Student Showcase
concert at
Bales Organ Recital Hall
, and on
April 10
at the
Kauffman Center's Helzberg Hall
in Kansas City, MO for a
Kansas City Symphony Organ Series
guest performance by
Caroline Robinson
from the Curtis Institute in Philadelphia, with Barone's special interview beforehand.