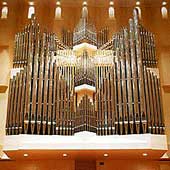 1984 Ruffatti organ at Davies Symphony Hall, San Francisco, California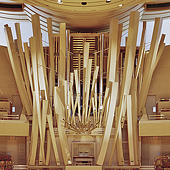 2004 Glatter-Götz, Rosales organ at Walt Disney Concert Hall, Los Angeles, California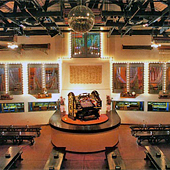 Wurlitzer organ at Organ Stop Pizza, Mesa, Arizona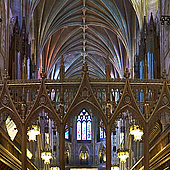 1938 Ernest M. Skinner & Son; 1975 Aeolian-Skinner organ, Opus 510, at National Cathedral, Washington DC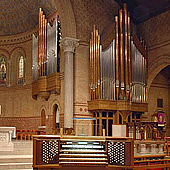 2003 Berghaus organ at Saint Stephen's Episcopal Church, Wilkes-Barre, Pennsylvania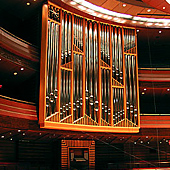 Fred J. Cooper Memorial Organ [2006 Dobson, Opus 76] at the Kimmel Center for the Performing Arts, Verizon Hall, Philadelphia, Pennsylvania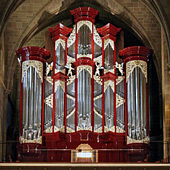 2006 Fritts organ at Saint Joseph Cathedral, Columbus, Ohio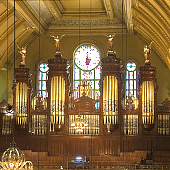 1915; 1996 Casavant Frères organ, Opus 615, at the Église Saint-Jean-Baptiste, Montréal, Québec, Canada
Off the Shelf
…a spring survey of some recent CD releases from American producers in the USA, Canada and Mexico.
Listen to the program
1 hr 58 Min
59:00 Min
59:00 Min
Program Broadcast dates:
Links and Resources:
Music played in the program
Hour 1
MARCEL DUPRÉ: Prelude & Fugue in B, Opus 7, number 1 –Scott Dettra (1938 Ernest M. Skinner & Son; 1975 Aeolian-Skinner/National Cathedral, Washington, DC) Loft LRCD-1114
ANONYMOUS (arranged by Christoph Bull): Retrové. MARTIN BÖTTCHER (arranged by Christoph Bull): Winnetou-Melodie –Christoph Bull (2004 Glatter-Götz, Rosales/Walt Disney Concert Hall, Los Angeles, CA) Bull Run Music 00706
ANNE WILSON: Toccata –Alan Morrison (Fred J. Cooper Memorial Organ [2006 Dobson]/Verizon Hall at the Kimmel Center for the Performing Arts, Philadelphia, PA) ACA Digital 20108
HENRY PURCELL: Voluntary in G; Anthem, I was glad –Choir of Saint Thomas Church, New York; Concert Royal; John Scott, conductor & organ soloist; Frederick Teardo, accompanying organist (2003 Klop chest organ) Saint Thomas Recordings 2010
J.S. BACH: Goldberg Variations, BWV 988, excerpts –Stephen Tharp (2006 Fritts/Cathedral of St. Joseph, Columbus, OH) JAV CD-172
AARON COPLAND: Scherzo, from Organ Symphony –San Francisco Symphony, Michael Tilson Thomas, conductor; Paul Jacobs (1984 Ruffatti/Davies Symphony Hall, San Francisco, CA) SFS Media 0038
Filler –MARTIN BÖTTCHER (see above)
Hour 2
HEALEY WILLAN: Epilogue –Andrew Henderson (1937 Casavant Frères/St. John the Evangelist Church, Elora, Ontario, Canada) Saint John's Church 101
WILLIAM BOYCE: Voluntary Number 4 –Benjamin Waterhouse (1790 England/Cathédrale Holy Trinity, Québec City, Québec, Canada) HTC 1790
THÉODORE DUBOIS: Messe de la Délivrance, Kyrie & Agnus Dei –Ottawa Choral Union, Michel Brousseau, conductor; Jean-Willy Kunz (1915; 1996 Casavant Frères/Église Saint-Jean-Baptiste, Montréal, Québec, Canada) ATMA ACD2632
JUAN CABANILLES: Pasacalles Number 2; Toccata Number 2 –Guy Bovet (1727 anonymous/San Jerónimo, Tlacochahuaya, Ciudad de Oaxaca, Oaxaca, México) Instituto de Organos Historicos de Oaxaca 1
VARIOUS: Medley from Pirates of the Carribean –Charlie Balogh (Wurlitzer/Organ Stop Pizza, Mesa, AZ) Organ Stop CD-120
LOUIS VIERNE: Lied, from Pieces in Free Style, Opus 31 –Brenda Lynne Leach (2003 Berghaus/St. Stephen Episcopal, Wilkes-Barre, PA) Pro Organo CD 7237
ANDREW AGER: Missa Campanella, Kyrie & Gloria –Cathedral Choir, Maxine Thevenot, conductor; Stephen Tharp (2002 Reuter/Cathedral of Saint John, Albuquerque, NM) Raven OAR-926
LOUIS VIERNE: Gloria, from Messe Solennelle –Choir of Christ Church, Cambridge, MA, Stuart Forster, conductor; Jeremy Bruns (1956 Aeolian-Skinner/St. Thomas Episcopal, New York, NY) Christ Church 2010
Filler –WILLIAM BOYCE (see above)
Michael Barone wll be host for the annual Independence Day Organ Recital at Washington National Cathedral, July 4, 11 a.m., a free concert featuring Cathedral organists Scott Dettra and Jeremy Filsell. It's free…come out to hear it!