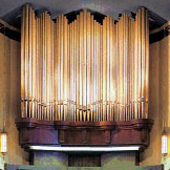 1997 Schoenstein organ at First Plymouth Congregation Church, Lincoln, Nebraska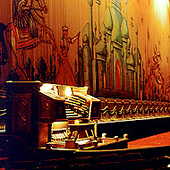 1929 Möller organ at the Fox Theatre, Atlanta, Georgia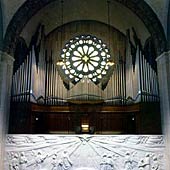 1964 Möller; 2001 Goulding & Wood organ at the National Shrine of the Immaculate Conception, Washington DC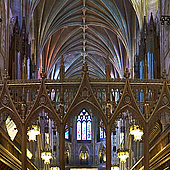 1938 Ernest M. Skinner & Son; 1975 Aeolian-Skinner organ, Opus 510, at National Cathedral, Washington DC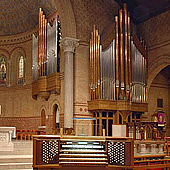 2003 Berghaus organ at Saint Stephen's Episcopal Church, Wilkes-Barre, Pennsylvania
Domestic Issues
…some recently released CDs featuring organs, composers and performers from these United States.
Listen to the program
1 hr 58 Min
59:00 Min
59:00 Min
Program Broadcast dates:
Links and Resources:
Audio Interview:
Listen to Michael Barone's conversation with Larry Donaldson and Cecil Whitmire
(9:38)
(4:14)
(3:00)
Music played in the program
Hour 1
DANIEL BRONDEL: Organ Fanfare. LOUIS VIERNE: Ave Maria, Opus 3. JACOB HINTZE: Salzburg –Choir of St. Patrick's Cathedral, Dr. Jennifer Pascual, conductor; Daniel Brondel (1930 Kilgen/St. Patrick Cathedral, New York, NY) JAV CD-187
ROBERT HEBBLE: Festival Fanfare. JOHN HUSTON: Psalm Prelude: By the waters of Babylon –Frederick Swann (1927; 2003 Casavant Frères/Memorial Chapel, University of Redlands, CA) Gothic G49271
ALAN MENKEN: A Whole New World, from Aladdin. ALEXANDER BORODIN: Polovtsian Dance –Steven Ball (1929 Möller/Fox Theatre, Atlanta, GA) StevenBall 23356
WILLIAM RALPH DRIFFILL: Toccata –Hector Olivera (2003 Ruffatti/Immaculate Conception Cathedral, Kansas City, MO) MPI CD-118
JEAN LANGLAIS: Virgo Dei genetrix, from Trois Esquisses Gothiques. FERNANDO GERMANI: Toccata –Jeremy Filsell (1964 Möller; 2001 Goulding & Wood/National Shrine of the Immaculate Conception, Washington, DC) Raven OAR-915
JEFFREY BLERSCH: Hymn-Prelude, God himself is present; Hymn-Anthem, Lo, He comes with clouds descending –Choirs of Concordia University, Seward, NE, Kurt von Kampen, conductor; The Brass Company; Jeffrey Blersch (1997 Schoenstein/First Plymouth Congregational, Lincoln, NE) JB-Concordia 2005
Filler –BLERSCH: Hymn Prelude (see above)
Hour 2
JIMMY van HEUSEN: Come, fly with me –Simon Gledhill. BURTON LANE: Everything I have is yours –Ken Double. SHERMAN MYERS: Moonlight on the Ganges –Jim Riggs. GEORGE GERSHWIN: Somebody loves me –Donna Parker. FRANK PERKINS: Stars fell on Alabama –Mark Herman (1927 Wurlitzer/Alabama Theatre, Birmingham, AL) ALA 1783
JOHNNY BURKE & ARTHUR JOHNSON: Pennies from heaven. SAMMY FAIN: That old feeling –Skip Stine, trumpet; Ken Double (1928 Kimball/Dickinson High School Auditorium, Wilmington, DE) DTOS CD-2009
GEORG BÖHM: Prelude & Fugue in C. FREDRIK SIXTEN: Tango-Prelude, There is one way to heaven –Brenda Lynne Leach (2003 Berghaus/St. Stephen Episcopal, Wilkes-Barre, PA) Pro Organo CD 7237
JULIAN WACHNER: Behold the tabernacle of God –Elora Festival Singers, Noel Edison, conductor.; Michael Bloss (1937 Casavant Frères/St. John the Evangelist Church, Elora, Ontario, Canada) Naxos 8.559607
PAUL MANZ: Aria. SIR EDWARD ELGAR: Imperial March –Erik William Suter (1938 Ernest M. Skinner & Son; 1975 Aeolian-Skinner/National Cathedral, Washington, DC) WNC 42491
Filler –JIMMY van HEUSEN Come fly with me (see above)
SPECIAL ADDITIONAL FEATURE - In Memoriam Cecil Whitmire:
In the second hour of today's program, you'll hear five selections played on the Wurlitzer organ at the Alabama Theatre in Birmingham. In conversations recorded by Michael Barone in November 2009, during a weekend festival of the American Theatre Organ Society, the remarkable story of this building and its magnificent instrument is told by the two men…Cecil Whitmire, executive Director of Birmingham Landmarks and general manager of the Alabama Theatre, and Larry Donaldson, crew chief for the Alabama Wurlitzer.
While many other volunteers contributed hours and dollars to keep this palace of dreams alive, Cecil and Larry were key providers of know-how and focused determination. Sadly, Cecil Whitmire died in August 2010. We hope that the Alabama Theatre will continue delight the Birmingham community, and in doing so serve as a tribute to Cecil's courageous vision.