Paul Otto Manz 1919—2009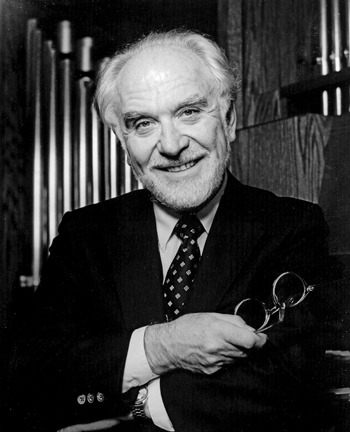 Photo–MoringStar Music
October 2009
The masterful Minnesota organist and composer Paul Manz has died, joining his beloved wife Ruth where good spirits congregate. His son John reported that, with the family gathered round the bedside, they had put on a recording of the marvelous choral piece that Paul and Ruth had created, and when the text came round again to "E'en so, Lord Jesus, quickly come", Paul breathed his last.
Back in 2001, Paul was featured in a PIPEDREAMS program of his compositions, performances and commentary. We have posted an upgraded audio stream, which can be accessed with a high-speed internet connection.
A Portrait of Paul Manz (#0114)
Though we grieve with the family of this marvelous man who has left us, his spirit does and will remain with us, as encouragement and model of a life well lived.
Links and Resources:
Remembrances from Gloria Dei Lutheran Church
MPR NewsQ Obituary
Facebook page with remembrances of Paul
In Memoriam
Paul Manz Wikipedia page
MorningStar Music
Compositions and recordings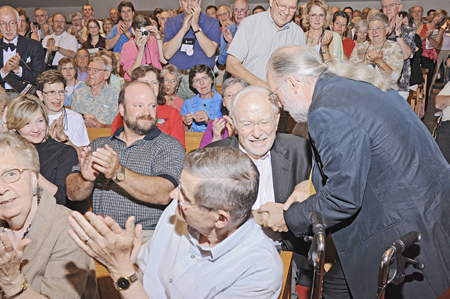 Paul Manz receives the congratulations of Michael Barone and the audience of more than two-thousand during a PIPEDREAMS LIVE! event at the American Guild of Organists National Convention in 2008.
Photo–AGO
Shows Featuring His Music: