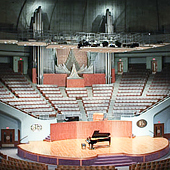 1959 Aeolian-Skinner organ at the Community of Christ Auditorium, Independence, Missouri
The Auditorium Organ
…a celebration of the iconic 1959 Aeolian-Skinner instrument in the Auditorium of the Community of Christ in Independence, Missouri, with comments from John Obetz and Jan Kraybill.
Listen to the program
1 hr 58 min
59:00 min
59:00 min
Program Broadcast dates:
Week of November 01, 2010
Links and Resources:
Music played in the program
Hour 1
HENRY PURCELL: Trumpet Tune & Bell Symphony –John Obetz; RBWCD-010
HENRY PURCELL: Fanfare –Jan Kraybill; Kraybill 2009
MARCEL DUPRÉ: Prelude & Fugue in g, Opus 7, number 3. JEAN LANGLAIS: Dialogue for the Mixtures. JOSÉ LIDÓN: Sonata on the 1 st Tone –Catharine Crozier; Fleur de Lis FL0601
SEARLE WRIGHT: Prelude on Greensleeves –John Obetz; RBWCD-002
JEHAN ALAIN: Dances of Agni Yavishta –John Obetz; RBWCD-010
GERALD KEMNER: 2 Pieces: Rosa Mystica; Gloria –John Obetz; RBWCD-002
LEO SOWERBY: Passacaglia, from Symphony in G –Jan Kraybill; JK 401
Filler –MARCEL DUPRÉ (see above)
Hour 2
LEO SOWERBY: Fantasy for Flute Stops –Catharine Crozier
HEINZ WERNER ZIMMERMANN: Four Psalms –John Obetz; Celebre 1970
RALPH VAUGHAN WILLIAMS: Hymn-prelude, Rhosymedre –John Obetz; RBWCD-010
HERMAN BERLINSKI: The Burning Bush –Catharine Crozier; Fleur de Lis FL0601
MAX REGER: Fantasy on Wachet auf, ruft uns die Stimme, Opus 52, number 2 –John Obetz; RBWCD-010
Filler –J.S. BACH: Jesu, joy of man's desiring, BWV 147 –John Obetz; RBWCD-010
A superb example of the American Classic tonal ideal of the mid twentieth century, the Auditorium Organ was built by Aeolian-Skinner in 1959, and it remains perhaps the most prominent of the firm's installations from that period. Aeolian-Skinner President Joseph Whiteford, working with an initial design and specification from his predecessor, the late G. Donald Harrison, evolved the instrument's final 113-rank specification with 6,334 individual pipes in consultation with prominent pedagogues Harold Gleason and Catharine Crozier. The organ is famous for its dramatic visual presence, with a dynamic display of exposed pipework including a towering 32′ pedal register and the powerful antiphonal trompette en chamade.
If you're in the area don't forget to check out the free 3 p.m. Sunday afternoon recitals as well as the Dome & Spire Series of concerts at the Community of Christ. The location alternates between the Auditorium and Temple.