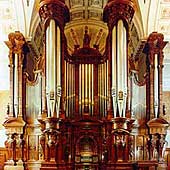 1862 Walcker; 1947 Aeolian-Skinner organ at Methuen Music Hall, Massachusetts
The Methuen Miracle
…when Edward F. Searles rescued the Boston Music Hall organ more than a century ago, did he realize he was creating a national landmark treasure?
Listen to the program
1 hr 58 min
59:00 min
59:00 min
Program Broadcast dates:
Links and Resources:
Music played in the program
Hour 1
J.S. BACH: Fantasy in g, BWV 542 –Michael Murray, Telarc CD-80049
FRANZ LISZT: Gloria, from Organ Mass –E. Power Biggs, Columbia LP 4820
FRANZ LISZT: Fugue on B-A-C-H –David Mulbury, AFKA SK-535
JOHN KNOWLES PAINE: Andante with Variations in A –Murray Forbes Somerville, Raven OAR-460
JEAN LANGLAIS: Amazing Grace! –Ann Labounsky, MHS CD-5236220
HEALEY WILLAN: Prelude & Fugue in c –Anne Wilson, Pipedreams PD CD-1002
Hour 2
J.S. BACH: Alle Menschen müssen sterben, BWV 643 –Michael Murray, Telarc CD-80049
JOHN KNOWLES PAINE: Variations & Fugue on The Star-spangled Banner –Murray Forbes Somerville, Raven OAR-460
JOHN PHILIP SOUSA: Stars and Stripes Foever –E. Power Biggs, Columbia LP M34129
GOTTFRIED RÜDINGER: Sonata in b, Opus 68 –Heidi Emmert, Motette CD MOT 12031
GEORGE BOZEMAN: Running a-round on Rasp Toot, from Permutations of Pot Roast –George Bozeman, AFKA SK-442
FRANZ LISZT: Gebet –Iain Quinn, Raven OAR-360
LEO SOWERBY: Comes Autumn Time –Frederick Hohman, Pro Organo CD 7066
Commissioned at a cost of $60,000 for the Boston Music Hall by community leader Jabez Upham, the innovative, German-built 1863 E.F. Walcker organ, with its imposing and impressive American-made black-walnut case and burnished tin 32-foot façade pipes, was the first 'concert organ' in the United States. It was, and remains, one of the most visually compelling organ designs of all time. However, its success was short-lived, and after only twenty-one years the Walcker was removed, sold twice, and eventually purchased by a wealthy Massachusetts businessman, Edward F. Searles [1841-1920], for the bargain price of $1,500. Searles then hired Henry Vaughan, architect of the National Cathedral in Washington, D.C., to design a lavish new space for the mammoth instrument. The resulting Serlo Organ Hall, for which planning began in 1899, took ten years to complete, but provided the organ with a unique setting which is both acoustically and visually stunning.
Rebuilt with electric action, the Walcker was returned to use, but only for Searles' private entertainments during the remaining twenty years of his life. Then, in 1946, after another period of uncertainty, both building and instrument were purchased by a private community organization, the Methuen Memorial Music Hall, Inc. Almost immediately, G. Donald Harrison and the Aeolian-Skinner Organ Company were hired to reconstruct the organ according to the 'tastes of the time', and since then the Methuen Organ, as it now is called, has been used for an annual series of summer concerts, traditionally on Wednesday evenings, from late May through early September. The hall also is available for weddings and other social and musical applications, and has earned fame as a recording venue, too. www.mmmh.org