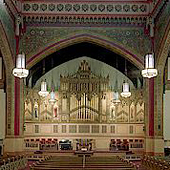 1942 Casavant Frères; 1999 Kegg organ, Opus 1715, at the First United Methodist Church, Cleveland, Ohio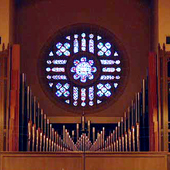 1958 Reuter; 2001 Morel organ at Montview Boulevard Presbyterian, Denver, Colorado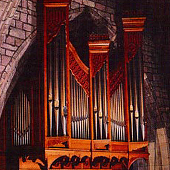 1998 Wood organ at the Cathedral, Saint Asaph, Wales, UK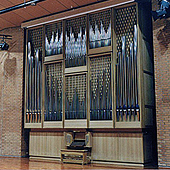 1990 Marcussen organ at Norwegian College of Music, Oslo, Norway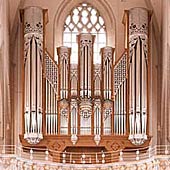 1977 Klais organ at Ingolstadt Cathedral, Germany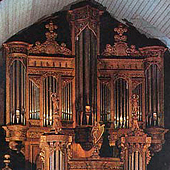 1675 Dallam organ at the Church of Saint Miliau, Guimiliau, France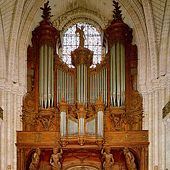 1874 Cavaillé-Coll; 1959 Beuchet-Debrier organ at the Cathédrale Saint Maurice, Angers, France
Organ Plus
…another exploration of the remarkable repertoire for pipe organ in consort with other instruments and voices.
It's all about collegiality. On our next Pipedreams program, the organ teams up with all sorts of friends including it's keyboard cousin, the piano, plus other brassy relations –the trumpet and trombone. You'll hear a little lullaby for organ and harp, a haunting fantasy for organ and electronic-tape that is amazingly effective plus a transcription of an orchestral tone poem by Franz Liszt, a spicy Baroque Concerto by Michel Corrette, and a lusty march by Alexandre Guilmant.
Think variety organ with trumpet, organ with trombone, organ with choir, or harp, or piano, or symphony orchestra, even organ with electronic tape. We're going to set aside all churchly implications and team up with many instrumental friends. Think beyond the box. Organ Plus, this week on Pipedreams.
Listen to the program
Program Broadcast dates:
•September 17, 2001 as Show #0138
•May 21, 2007 as Show #0721
Links and Resources:
Read more about Richard Stewart.
Music played in the program
MICHEL CORRETTE: Organ Concerto Number 6 in d –Concerto Rococo Ensemble; Jean-Patrice Brosse (unidentified instrument) Pierre Verany 793113
JEAN TITELOUZE: Magnificat Sexti Toni –Jean-Charles Ablitzer, with schola (1680 Dallam/Église Saint-Miliau, Guimiliau, Brittany, France\) Harmonic CD-9037
ALEXANDRE GUILMANT: Marche Fantaisie sur deux chantes d'eglise –Ingolstadt Philharmonic, Olaf Koch, conductor; Franz Hauk (1977 Klais/Ingolstadt Münster, Germany) Guild GMCD 7215
JEAN-JOSEPH MOURET: Rondeau. HENRY PURCELL: Gigue. GIOVANNI BATTISTA MARTINI: Toccata –Rolf Smedvig, trumpet; Michael Murray (1943; 1953; 1970 Casavant Frères/FUMC, Cleveland, OH) Telarc CD-80341
GUSTAV HOLST: Duet for Trombone & Organ –Alain Trudel, trombone; Patrick Wedd (1901 Casavant Frères; 1954 Casavant Frères; 1986 Guilbault-Therien/Église du Gesu, Montréal, Québec, Canada) Naxos 8.553716
ORESTE RAVANELLO: Prelude-Berceuse –Eira Lynn Jones, harp; Graham Eccles (1998 Wood/St. Asaph Cathedral, Wales, UK) OxRecs CD-82
RICHARD STEWART: Prelude for Organ and Tape –David Engen (1985 Schantz/Lumen Christi Catholic Community [St. Leo the Great], Saint Paul, MN) Pipedreams PD 1003
SIGFRID KARG-ELERT: Quasi Minuetto, from Silhouetten, Opus 29 –Mats Jansson, piano; Hans Fagius (1990 Marcussen/Norwegian College of Music, Oslo, Norway) BIS-CD-551
FRANZ LISZT: Les Préludes (arranged by for organ and piano) –Laurent Cabasso, piano; Olivier Vernet (1874 Cavaillé-Coll; 1959 Beuchet-Debrier/Cathédrale Saint Maurice, Angers, France) Ligia Digital 0104067
Filler –MICHEL CORRETTE Concerto (see above)