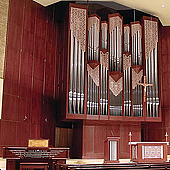 2001 Lively-Fulcher organ at Saint Olaf RCC, Minneapolis
Paulus, Phillips and Proulx
…Usually three 'p's mean pianissimo, but this program resounds with an exultant trio of exciting modern works for organ and instruments, one of them a premiere.
This week's broadcast features new music for organ and instruments. Starting with Richard Proulx's Concerto for Organ and Strings, we'll hear its premiere played by Jonathan Biggers, in concert at Saint Olaf Roman Catholic Church in Minneapolis. A multi-functional Suite for Organ, Brass and Percussion by California composer Craig Phillips and the increasingly popular Concerto Number 1 by Stephen Paulus have added to the compelling concert repertoire for the King of Instruments.
Three 'p's usually mean pianissimo, but now they stand for a pair of fine concertos with orchestra and a marvelous suite with brass and percussion. They are colorful contemporary works for organ plus by Paulus, Philips and Proulx.
1 hr 28 min
Listen to the program
Program Broadcast dates:
•October 6, 2003 as Show #0341
•March 12, 2007 as Show #0711
Links and Resources:
Featured Organ:
Music played in the program
RICHARD PROULX: Concerto for Organ and Strings [2002], premiere
CRAIG PHILLIPS: Suite for Organ, Brass and Percussion [2001]
STEPHEN PAULUS: Concerto for Organ, Strings and Percussion [1992]
Filler –Proulx Concerto, 2nd movement
–Dr. Jonathan Biggers (2001 Lively-Fulcher/St. Olaf RCC, Minneapolis, MN); Saint Olaf Festival Orchestra, Kenneth Freed, conductor; recorded in concert November 9, 2002
Dr. Biggers is on the faculty of Binghamton University in New York. His recordings are available on the Calcante label. Choral compositions by Craig Phillips are available from Gothic Records. The Paulus Concerto is available on Pipedreams PD 1003