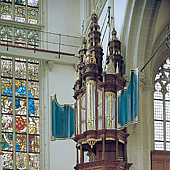 1651 van Hagerbeer organ at the Nieuwe Kerk, Amsterdam, The Netherlands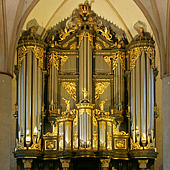 1692 Arp Schnitger organ [plus additions] at the Martinikerk, Groningen, The Netherlands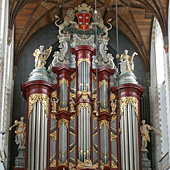 1738 Müller organ at Sint-Bavokerk, Haarlem, The Netherlands
Dutch Treats
The Netherlands, beyond its eye-catching windmills and colorful tulips, is home to an incredible treasure of historic and modern pipe organs.
1 hr 28 min
Listen to the program
Program Broadcast dates:
Links and Resources:
Music played in the program
JAN PIETERSZOON SWEELINCK: Toccata –Leo van Doeselaar (1643 van Hagerbeer/Pieterskerk, Leiden, The Netherlands) Radio Nederland CD-92119
HANS KOTTER: 2 Pieces: Prooemium in d; Salve Regina –Pieter van Dijk (16th c. Anonymous/Reformed Church, Oosthuizen, The Netherlands) Emergo CD-3995
SUSANNE VAN SOLDT MANUSCRIPT: 2 Dances –Vincent van Laar (1659 de Mare/Reformed Church, Midwolde, The Netherlands) Organa Incognita CD-260598
JAN PIETERSZOON SWEELINCK: Variations, Ick voer all over Rhijn –Bernard Winsemius (1651 van Hagerbeer/Nieuwe Kerk, Amsterdam, The Netherlands) InterSound 1006
DIETERICH BUXTEHUDE: Praeludium in C –Piet Kee (1725 F.C. Schnitger/Sint Laurenskerk, Alkmaar, The Netherlands) Chandos CD-0514
SIETZE de VRIES: Psalm 118 –Sietze de Vries (1727 Müller/Jacobijnerkerk, Leeuwarden, The Netherlands) JSB Records 10113
WILLEM van TWILLERT: Psalm 117 –Willem van Twillert (1743 Hinsz/Bovenkerk, Kampen, The Netherlands) Festivo FECD-126
BERT MATTER: Agnus Dei –Maria voor't Hekke, soprano; Toon Hagen (1639 Bader; 1813 Timpe/Sint Walburgiskerk, Zutphen, The Netherlands) VLS Records 1097
MARIUS MONNIKENDAM: Toccata Number 2 [1976] –Jaap Kroonenburg (1732 Garrels/Grote Kerk, Maassluis, The Netherlands) Lindenberg LBCD-88
GEORG BÖHM: Praeludium, Fuga & Postludium in g –Wim van Beek (1692 Arp Schnitger [plus additions]/Martinikerk, Groningen, The Netherlands) Fidelio Praestant 6609
MAX REGER: Prelude in d, Opus 65, number 7 –Bas de Vroome (1857 Witte/Oude Kerk, Delft, The Netherlands) Lindenberg LBCD-67/70
FELIX MENDELSSOHN: Andante & Variations –Feike Asma (1726 Vater/Oude Kerk, Amsterdam, The Netherlands) Festivo 6921 692
KLAAS BOLT: Postlude on a Dutch Chorale –Klaas Bolt (1738 Müller/Sint-Bavokerk [St. Bavo Church], Haarlem, The Netherlands) Lindenberg LBCD-38
Filler –SIETZE DE VRIES: Psalm 118 (see above)
These and other remarkable instruments were visited during our 2007 Organ Tour in the Netherlands, May 6-18.