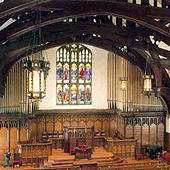 1981 Holtkamp organ, Opus 1965, at Plymouth Congregational Church, Minneapolis, MN.
Sing, Beloved
Whether it's a wakening call, a Brazilian sleighride or a gentle lullaby, this week we'll serenade the spirit of the holiday season with a fanciful collection of familiar carols. From the pen of Leroy Anderson or Julien Zbinden, both choirs and instruments are combined into one harmonious message which speaks of peace on earth.
Our seasonal offering sounds the wake-up call and makes plans to be home for the holidays, as we listen to musicians raise their voices in praise at Christmas time. Join with them as they Sing, Beloved.
Listen to the program
Program Broadcast dates:
Music played in the program
PAUL MANZ: Christmas Hymn Improvisations: Let all together praise; O Lord, how shall I meet thee; How far is it to Bethlehem; O, come, all ye faithful –Paul Manz (1965 Schlicker/Mount Olive Lutheran, Minneapolis, MN) Manz Music CD-933
MICHAEL PRAETORIUS: Singt, ihr lieben Christen. RICHARD CUMMING: As dew in April. JEFFREY SMITH: Improvisation on Lo, how a rose. JAN SANDSTRÖM: Lo, how a rose –Choir of Saint Paul's, Jeffrey Smith, conductor; Lisa Kadala, cl; Jeffrey Smith, Thomas Joyce (1997 Schoenstein/St. Paul "K" Street, Washington, DC) Pro Organo CD 7190
PAUL MANZ: Wachet auf! DUDLEY BUCK: Silent night. SEARLE WRIGHT: Prelude on Greensleeves –Philip Brunelle (1981 Holtkamp/Plymouth Congregational, Minneapolis, MN) Virgin Classics 91088
LEROY ANDERSON: Brazilian Sleighride –David Messineo/Robert Maidhof (1928 Wurlitzer/Paramount Theatre, Brooklyn, NY) Midnight Productions CD-1993
RICHARD PURVIS: Carol Rhapsody –Tom Hazleton (1928 Kimball/Dickinson High School Auditorium, Wilmington, DE) DTOS CD-302
TRADITIONAL: Star Carol. ROBERT ALLEN: I'll be home for Christmas. TRADITIONAL: We wish you a Merry Christmas –Bob Ralston (1929 Barton/Granada Theatre, Kansas City, KS) P&P Productions 1992
ANDREW CARTER: Music for Christmas: Anthems, Hodie Christus natus est; Sweet was the song; I come from the highest hea ven; Toccata on Veni Emmanuel –Quire of London, ANDREW CARTER; John Scott (1961 Compton/St. Alban the Martyr, Holborn, London, England, UK) York Ambisonic CD-169
LENNOX BERKELEY: Look up sweet babe, Opus 43, number 2 –Choir of Saint Alban's Abbey, Stephen Darlington, conductor; Andrew Parnell (1962; 2009 Harrison & Harrison/The Cathedral & Abbey Church of Saint Alban, England, UK) Priory PRCD003
JULIEN-FRANCOIS ZBINDEN: Variations on Silent Night –René Oberson (1992 Ayer-Morel/St. Laurence Collegiate Church, Estavayer-le-lac, Switzerland) Gallo CD-700