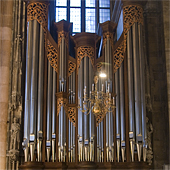 1991 Reiger organ at Saint Stephen's Cathedral, Vienna
Bach International
No questions are asked when the name of Bach comes up. He is the undisputed master of organ music by worldwide acclaim, and this week, we offer a multi-national celebration of Bachian art, works of amazing grace and glorious intensity. From across Europe and the United States come a host of players, from Albert Schweitzer to David Schrader, Aram Basmadjian to Pierre Bardon.
From England, Denmark, Austria, Sweden, Finland, Switzerland, The Netherlands, France and America, our retrospective celebrates universal appeal and border-crossing cooperation. It's Bach International.
Listen to the program
Program Broadcast dates:
Music played in the program
J.S. BACH: Fantasy in g, S. 542 –Olivier Latry (1979 Felsburg/Église Saint-Martin, Colmar, France) BNL 112769
J.S. BACH: Fugue in g, S. 578 –Albert Schweitzer, recorded 1935 (1957 Harrison & Harrison/All Hallows by the Tower, London, England, UK) Pearle CD-9959
J.S. BACH: Concerto in G after Prince Johann Ernst, S. 592 –Kevin Bowyer (1962; 1987 Marcussen & Søn/St. Hans Church, Odense, Denmark) Nimbus CD-5280; Kimberly Marshall (1984 C.B. Fisk/Memorial Church, Stanford University, CA) IMP CD-965
J.S. BACH: 3 Chorale-preludes: Herr Jesu Christ, S. 709; Christ lag in Todesbanden, S. 718 –Peter Planyavsky (1991 Reiger/Cathedral of Saint Stephan, Vienna, Austria) Motette CD MOT 11641
J.S. BACH: Fugue in D, S. 580; 3 Chorale-preludes: Wie schön leuchtet der Morgenstern, S. 763; Vater unser, S. 762; Vom Himmel hoch, S. 738 –Hans Fagius (1724 Cahman; 1906 Setterquist/Kristine Church, Falun, Sweden) BIS-CD-439/440 & BIS-CD-445
J.S. BACH: Canzona in d, S. 588 –Gunnar Idenstam (1990 Urkurakentamo/Naantali Monastery, Naantali, Finland) Opus 111 CD-51-9115
J.S. BACH (arranged by Virgil Fox): Sinfonia Number 29 –Aram Basmadjian (1990 Allen Digital Organ) Resultant CD-9001
J.S. BACH: Fugue in c, S. 575 –David Schrader (1988 Jaeckel/Salem Lutheran, Wausau, WI) Cedille CD-012
J.S. BACH: Fugue in c, S. 574 –Jean Guillou (1988 Kleuker-Steinmeyer/Tonhalle, Zürich, Switzerland) Dorian DOR 90152
J.S. BACH: Prelude & Fugue in F, S. 556 –Piet Kee (1738 Müller/Sint-Bavokerk [St. Bavo Church], Haarlem, The Netherlands) Chandos CD-0527
J.S. BACH: Fugue in F, S. 540 –Pierre Bardon (1775 Isnard/Basilique Sainte-Marie-Madeleine, Sainte-Maximin la Sainte-Baume, France) Pierre Verany 710811
This program was originally issued as #9311 in March 1993.