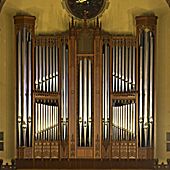 1981 Schantz organ and Choir of Saint Paul's United Methodist Church
An American Organist's Christmas
A rose blooms out of season on a winter morning. The Brightest and Best stars show up in the "Company at the Creche." Images, scenes, and personalities such asa these are present in our next Pipedreams program. It's a showcase for the work of composers here in the United States, giving a sense of home and place to this international festival.
Timothy Albrecht plays grace notes at Emory University, Nancy Whipkey leads her Ascension Children's Choir in a cantata by Daniel Pinkham, Allison Luedecke and Robert Gallagher stir the echoes at Saint John's Cathedral in Milwaukee, and Craig Cansler and the Choir of Saint Philip's in Atlanta celebrates the work of Charles Beaudrot.
Our torch lights up the manger scene in Bethlehem, and who do we see there but a circle of composers from the United States, celebrating the holiday with their special gifts. Tune in for An American Organist's Christmas, this week on Pipedreams.
Listen to the program
Program Broadcast dates:
Music played in the program
DAVID ASHLEY WHITE: Anthem, When in our music God is glorified –Choir of Saint Paul UMC, Robert Brewer, conductor; Frances Anderson (1981 Schantz/St. Paul UMC, Houston, TX) Zephyr CD-115-99
PAUL MANZ/MICHAEL BURKHARDT: Chorale-preludes, Nun komm, der Heiden Heiland –Nancy Frank (1923 Casavant Frères/First Presbyterian, Albany, NY) WAF CD-2001
TIMOTHY ALBRECHT: 3 Christmas Grace Notes: What child is this; Lo, how a rose is growing; Come, O thou traveler unknown –Timothy Albrecht (1982 Casavant Frères/Glenn Memorial Auditorium, Emory University, Atlanta, GA) private CD
CHARLES BEAUDROT: 2 Christmas Anthems: The Woodcrest Carol; The Gift –Choirs of Cathedral of Saint Philip, Craig Cansler, conductor; David Fishburn (1962 Aeolian-Skinner/Episcopal Cathedral of St. Philip, Atlanta, GA) ACA Digital 20080
THOMAS SCHMUTZLER: Variations on Joseph est bien marié –James R. Barry (1965 Austin/Christ Church Cathedral, Hartford, CT) Christ Church CD-1998
ROBERT EDWARD SMITH: 3 Christmas Hymn Preludes: Brightest and best ar the stars of the morning; O come, all ye faithful; Good King Wenceslaus –Robert Gallagher (1995 Lively-Fulcher/Cathedral of St. Matthew the Apostle, Washington, DC) World Library CD-3027
DANIEL PINKHAM: Company at the Creche –Ascension Youth Choir, Nancy Whipkey, conductor; James Biery (1927 E.M. Skinner; 1963 Aeolian-Skinner/Cathedral of St. Paul, Saint Paul, MN) Sonus Luxque CD-108
JEFFERSON McCONNAUGHEY: A Christmas Fancy on Bring a Torch –Elizabeth and Raymond Chenault (1992 Ruffatti/Spivey Hall, Clayton State University, Morrow, GA) Gothic G49084
ROSA RIO (arranged): Silent Night. PIETRO YON: Toccata, Creator of the stars of night –William Picher (1999 Rodgers-Ruffatti/Cathedral of St. Jude the Apostle, Saint Petersburg, FL) Stemik Music CD-102
HALSEY STEVENS: Improvisation on Divinum mysterium. GERRE HANCOCK: Fantasy on Divinum mysterium –Alison Luedecke, Robert Gallagher (1966 Noehren/Cathedral of Saint John the Evangelist, Milwaukee, WI) World Library CD-2922