2002 Spring Organ Tour
April 21-May 3, 2002

ESCORTED BY J. MICHAEL BARONE
Registration is now full. The tour has sold out.
| | |
| --- | --- |
| | |
| | 1730 Trost organ of the Stadtkirche in Waltershausen, Germany |
Prepare to be enchanted! Explore the heart of Bach Country with American Public Media's Michael Barone (host of
Pipedreams
) during an 11-plus day visit to historic organs in eastern Europe from April 21 to May 3, 2002. Combine an opportunity to travel, the fellowship of organ enthusiasts and music lovers, and an exciting itinerary that includes Berlin, Potsdam, Wittenberg, Leipzig, Eisenach, Dresden, and Prague (see map).
Meet with resident organists and builders, gain hands-on experience with some of Europe's finest instruments in Altenberg, Weimar, Halle, and Erfurt. Tour the Schuke organ factory in Potsdam and the Meissen porcelain factory in Dresden. Hear numerous concerts and special demonstrations. And experience the Saint Thomas Church in Leipzig in the heart of Bach Country.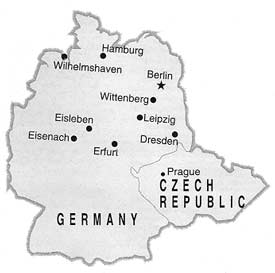 The entire trip costs only $2,899 including airfare, guides, land transportation, accommodations, daily breakfast, and eight dinners and two lunches. A small, tax-deductible portion of the fee will support the continuing broadcast of American Public Media's Pipedreams radio program.
Space is limited, so don't put off your inquiry for more detailed information. Registration by January 21 is strongly recommended.
Contact American Public Media, Member Listener Services (800-228-7123; e-mail
mail@mpr.org) or Group Travel Directors (800-747-2255, 952-881-7811, Fax 952-881-6276, e-mail
groups@gtd.org.)
For more information read
Historic Organs in Bach Country.
(PDF; free
Adobe Reader needed.) If you have trouble printing this PDF file, try the link at the
Group Travel Directors site, or use our printable
reservation application.
Registration is now full. The tour has sold out.
Instruments on our itinerary
Gottfried Silbermann organ builder
Berlin, Schloss Charlottenburg
(1970 Schuke, II/26)
Potsdam, Friedenskirche, Sanssoucie Park
(1937 Sauer-1972 Schuke, II/36)
Berlin, Franzsischen Kirche, Gendarmenmarkt, Berlin
(1986 Eule, III/31)
Evangelical Church, Berlin-Karlshorst
(1755 Migendt; II/21)
Holy Cross Church, Berlin-Karlshorst
(1870 Hook, III/39)
Berlin, Dom/Cathedral
(1905 Sauer, IV/113)
Berlin, Schauspielhaus
(1984 Jehmlich, V/74)
Berlin, Nikolaikirche
(1997 Jehmlich, III/44)
Wittenberg, Schlosskirche
(1864 Ladegast, IV/48)
Wittenberg, City Church (Saint Mary's)
(1983 Sauer, III/40)
Halle, Marktkirche Unser Lieben Frauen
(1984 Schuke, III/56; 1664 Reichel, I/6)
Merseburg, Cathedral/Dom Saint Laurentii et Johannes Baptistae
(1855 Ladegast, IV/80)
Leipgiz, Gewandhaus Concert Hall
(1981 Schuke; IV)
Leipzig, Nikolaikirche
(1862 Ladegast-Sauer, IV/87)
Leipzig, Saint Thomas Church (
1908 Sauer
, III/88;
2000 Woehl
, IV/61)
Rotha, Saint George's Church
(1721 Silbermann, II/23)
Naumburg, Saint Wenzel's Church
(
1746 Hildebrandt
, III/53)
Eisenach, Saint George's Cathedral
(1982 Schuke, III/60)
Waltershausen, Stadtkirche
(1730 Trost, III/53)
Erfurt, Saint Mary's Cathedral/Dom
(1992 Schuke; III/63; 1963 Schuke, II/29)
Background
Erfurt, Prederkirche
(1978 Schuke)
Erfurt, Saint Severi Church
(1930 Klais, III/33)
Weimer, Herderkirche/Saint Peter and Paul
(1998 Sauer, III/52)
Altenburg, Hofkirche/Castle Church
(1739 Trost, II/42)
Meissen Porcelain Factory
(2000 Jehmlich, I/4)
Coswig, Old Church
(17th century unknown, I/10)
Dresden, Kreuzkirche
(1963 Jehmlich, IV/76)
Dresden-Loschwitz
(2000 Wegscheider, II/20)
Langhennersdorf bei Freiberg
(1722 Hildebrandt, II/21)
Freiberg, Saint Jacob's Church
(1718 Silbermann, II/20)
Freiberg, Saint Petri Church
(1735 Silbermann, II/32)
Freiberg, Dom/Cathedral of Saint Mary
(1714 Silbermann, III/44; 1719 Silbermann, I/14)
Reinhardtsgrimma, Village Church
(1731 Silbermann, II/20)
Frauenstein, Silbermann Museum
Nassau, Pfarrkirche
(1748 Silbermann, II/19)
Prague, Saint James Church
(1980 rieger-Kloss, IV/91)
Prague, Tyne Church
(1673 Mundt)