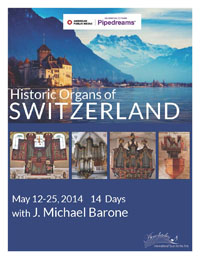 Click Here to see the 2014 Tour Booklet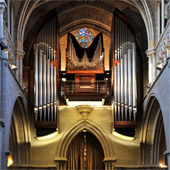 2003 Fisk at Cathedral of Our Lady, Lausanne

1435 Anonymous at Basilica of Valera, Sion

1995 Füglister at Reformed Church, Lutry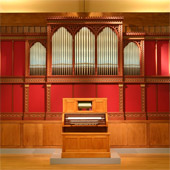 1914 Welte at Mechanical Organ Museum, Seewen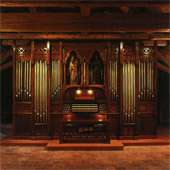 Alain organ at Maison de la Dime, Romanmotier
SOLD OUT!
2014 Pipedreams Tour - Pipe Organs of Switzerland, May 12-25
Join us for an itinerary that takes us to Basel, Bern, Lausanne, Geneva, Lucerne, and Zurich, with important stops at Arlesheim, Fribourg, Sion, Romainmotier, St. Urban and Einsiedeln. We've also included a visit to the Museum of Mechanical Musical Instruments in Seewen where famous composers and soloists from the past 'play' for us via organ-rolls!
You are encouraged to check out the links below, and check out our FACEBOOK to see some great pictures and comments. Click here for the tour brochure.
Itinerary
Day 1 - MON 12 MAY Depart US

Day 2 - TUE 13 MAY (Arrive Zurich and transfer to Basel)
Basel:
Munster (2003 Mathis; IV+P/78)
Karthauserkirche (2014 Edskes, after Schnitger; II+P/22)
Pauluskirche (1987 Kuln; III+P/53)
Theodorskirche (1983 Kern; III+P/36)
Welcome dinner

Day 3 - WED 14 MAY (Basel)
Predigerkirche - Hauptorgel (1974 Metzler ; II+P/28)
Swallow's Nest Organ (1985 Blank; II+P/11)
Trunk organ (1974 Felig; I/4)
Heiliggeistkirche (1921 Späth; III+P/41)
Arlesheim, Dom (1768 J-A Silbermann; III+P/37)
Seewen, Museum

Day 4 - THU 15 MAY (Basel-Porrentruy-St. Ursanne-St. Urban-Bern)
Porrentruy (1985 Ahrend ; II+P/30)
St. Ursanne (1776 Besancon ; II+P/26)
St. Urban (1721 Bossard-1993 Kuhn; III+P/40)

Day 5 - FRI 16 MAY Bern (Neuchatel and Bern)
Neuchatel, Collegiale (1996 Saint-Martin; IV+P/39)
Bern:
St. Stephan (1778 Mooser ; I+P/10)
Münster
Hauptorgel (1999 Kuhn; IV+P/71)
Swallow's Nest Organ (1982 Metzler; II+P/14)
S.S. Peter u. Paul
Hauptorgel (1885-2011 Goll' II+P/28)
Crypt Organ (1993 Wälti; II+P/16)
Positiv (1986 Thomas; I+P/4)

Day 6 - SAT 17 MAY (Bern-Payerne-Fribourg-Broc-Lausanne)
Payerne:
Abbatiale (1999 Ahrend ; I+P/11)
Eglise paroissale (1993 Ahrend; II+P/22)
Fribourg:
Cathédrale, Hauptorgel (1834 Mooser; IV+P/61)
Cathédrale, Choir Organ (1657 Manderscheid ; II+P/18)
Day 7 - SUN 18 MAY (Lausanne-Geneva-Romainmotier-Lausanne)
Geneva:
Cathedral (1965 Metzler; IV+P/67)
Chapel of the Maccabees (1888 Walcker; II+P/10)
Carouge, Ste. Croix (2010 Kuhn; III+P/34)
Romainmotier:
'Alain' organ studio (1935 Alain; IV/43)
Eglise Reformee (1972 Neidhart; IV+P/36)
Day 8 - MON 19 MAY (Lausane–Lutry–Lausane)
Lausanne: Cathédrale (2003 Fisk; V+P/102)
St. Francois, Eglise réformée
Hauptorgel (1777 Scherrer-1995 Kuhn; V+P/75)
Orgue de choeur (1990 Formantelli; I+P/9)
Lutry, Reformed Temple, Zimmer (1791-1975 Füglister; III+P/38)
Day 9 - TUE 20 MAY (Lausanne-Sion-Leuk-Eisten-Brig)
Sion/Valére:
Basilica (1435 Anonymous; I+P/8)
Cathedral (1988 Füglister; III+P/49)
Leuk, Ringackerkapelle (1805 Carlen meantone ; I+P/11)
Eisten, Maria Empfängnis Kirche (1910 Carlen ; II+P/13)
Day 10 - WED 21 MAY (Brig-Reckingen-Munster-Lucerne)
Reckingen, Geburt Mariens Kirche (1746 Carlen ; I+P/15)
Münster, Maria Himmelfahrt Kirche (1685 Anonymous ; II+P/19)
Lucerne, Jesuit Church (1984 Metzler; III+P/39)
Day 11 - THU 22 MAY (Lucerne-local and continue to Zurich)
Lucerne:
Hofkirche, St. Leodegar (1977 Kuhn ; V+P/84)
Lukaskirche (2001 Goll; III+P/50)
Franziskanerkirche St. Maria in der Au (1988 Goll; III+P/33)
Day 12 – FRI/SAT 23/24 MAY (Zurich local)
Grossmünster:
Hauptorgel (1960 Metzler ; IV+P/66)
Sacristy (1987 Kuhn ; II+P/5)
Helferkapelle (1754 Wendelin ; I/6)
Fraumünster (1912 Kuhn-1953 Genf ; IV+P/79)
Bühlkirche (1897 Goll; III+P/44)
Neumunster – former Tonhalle organ (1881 Goll-1995 Kuhn; III+P/52)
S. Josef (1966 Metzler ; III+P/38) and Louis Debierre 1925
Day 13 - SAT 24 MAY (Zurich local and Einsiedeln)
Einsiedeln Abbey:
Main Organ (1994 Mathis; IV+P/62)
Marien Organ (1988 Mathis; III+P/34)
Choir Organ (1754 Bossart-1985 Mathis; II+P/29)
Student Chapel (1990 Mathis; II+P/13)
Portative (1981 Mathis; I/4)
Farewell dinner

Day 14 - SUN 25 MAY return to US