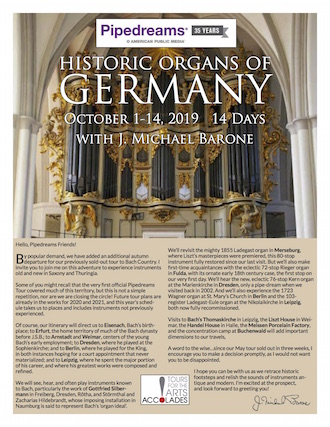 Click here for the full online tour brochure!
Hello, Pipedreams friends!
By popular demand, we have added an additional autumn departure for our previously sold-out tour to Bach Country. I invite you to join me on this adventure to experience instruments old and new in Saxony and Thuringia.
Some of you might recall that the very first official Pipedreams Tour covered much of this territory, but this is not a simple repetition, nor are we are closing the circle! Future tour plans are already in the works for 2020 and 2021, and this year's schedule takes us to places and includes instruments not previously experienced.
Of course, our itinerary will direct us to Eisenach, Bach's birthplace; to Erfurt, the home territory of much of the Bach dynasty before J.S.B.; to Arnstadt and Weimar, centers of the young Bach's early employment; to Dresden, where he played at the Sophienkirche; and to Berlin, where he played for the King, in both instances hoping for a court appointment that never materialized; and to Leipzig, where he spent the major portion of his career, and where his greatest works were composed and refined.
We will see, hear, and often play instruments known to Bach, particularly the work of Gottfried Silbermann in Freiberg, Dresden, Rötha, and Störmthal and Zacharias Hildebrandt, whose imposing installation in Naumburg is said to represent Bach's 'organ ideal'.
We'll revisit the mighty 1855 Ladegast organ in Merseburg, where Liszt's masterpieces were premiered, this 80-stop instrument fully restored since our last visit. But we'll also make first-time acquaintances with the eclectic 72-stop Rieger organ in Fulda, with its ornate early 18th century case, the first stop on our very first day. We'll hear the new, eclectic 76-stop Kern organ at the Marienkirche in Dresden, only a pipe-dream when we visited back in 2002. And we'll also experience the 1723 Wagner organ at St. Mary's Church in Berlin and the 103- register Ladegast-Eule organ at the Nikolaikirche in Leipzig, both now fully recommissioned.
Visits to Bach's Thomaskirchein Leipzig, the Liszt House in Weimar, the Handel House in Halle, the Meissen Porcelain Factory, and the concentration camp at Buchenwald will add important dimensions to our travels.
A word to the wise…since our May tour sold out in three weeks, I encourage you to make a decision promptly, as I would not want you to be disappointed.
I hope you can be with us as we retrace historic footsteps and relish the sounds of instruments antique and modern. I'm excited at the prospect, and look forward to greeting you!
Michael Barone