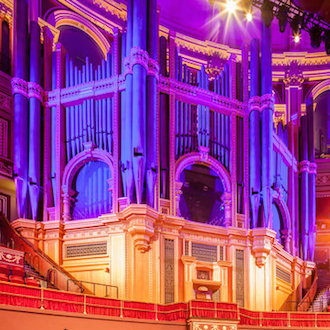 1871 Henry Willis; 1933 Harrison; 2004 Mander/Royal Albert Hall, London, England, UK
At the Proms 2019
…Notre Dame Cathedral organist Olivier Latry and Leipzig Gewandhaus organist Michael Schönheit perform at the Royal Albert Hall..
Program Broadcast dates:
Week of September 2, 2019
Links and Resources:
Music played in the program
Hour 1
ARAM KHACHATURIAN (trans. Kiviniemi): Sabre Dance, fr Gayane. MANUEL de FALLA (trans. Latry): Ritual Fire Dance. LUDWIG van BEETHOVEN: Adagio in F. J. S. BACH: Toccata & Fugue in d, BWV 565. FRANZ LISZT (arr. Guillou): Prelude & Fugue on B-A-C-H. OLIVIER LATRY: Improvisation –Olivier Latry, soloist (r. 8/4/19)
Hour 2
BACH: Fantasy in g, BWV 542. BACH (trans. Schmidt-Mannheim): Jesu, bleibet meine Freude, fr Cantata BWV 147. BACH: Prelude in E-flat, BWV 552/1. BACH: Wachet auf, ruft uns die Stimme, BWV 645. BACH: Fugue in E-flat, BWV 552/2 –Michael Schönheit, soloist (r. 8/24/19). EUGENE GIGOUT: Air célebre de la Penecote. CHARLES-MARIE WIDOR: March of the Night Watchman, fr Bach's Memento. CAMILLE SAINT-SAËNS (trans. Lemare): Danse macabre –Olivier Latry, soloist
Courtesy of the BBC, these performances feature the 1871 Willis-1933 Harrison & Harrison-2004 Mander pipe organ at Royal Albert Hall, London, the largest concert hall organ in Europe.

Continuing support of PIPEDREAMS is provided in memory of Wesley C. Dudley by his family, with additional support from Walter McCarthy, Clara Ueland, and the Greystone Foundation, by Jan Kirchner on behalf of her family foundation, by the Art and Martha Kaemmer Fund of the HRK Foundation, in celebration of the life of Martha Hulings Kaemmer, and by listener-contributors to this public radio station. Additional support comes from Solid State Organ Systems of Alexandria, VA, and Syndyne Corporation of Vancouver, WA, members of APOBA, the Associated Pipe Organ Builders of America, a collaborative of designers, creators, and maintainers of pipe organs found in religious and educational institutions, concert halls, and residences throughout the United States and beyond. An APOBA resource guide and member prospectus is available at APOBA.COM.