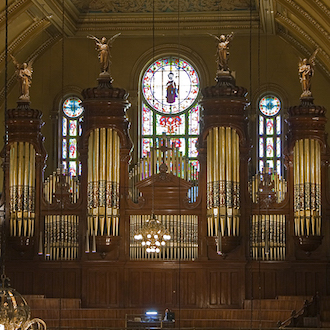 1915-1996 Casavant/St. John the Baptist Church, Montreal, Quebec, Canada
Canadian Capers
…in conjunction with Canada Day (July 1), we celebrate artistic and instrumental representatives of our northern neighbor.
Listen to the program
For the convenience of those of you with mobile devices, now you can listen to our PIPEDREAMS audio at http://www.yourclassical.org!
Program Broadcast dates:
Links and Resources:
Music played in the program
Hour 1
SIR ERNEST MacMILLAN: Cortege Académique –Mark Toews (1998 Casavant/Lawrence Park Community Church, Toronto, Ontario, Canada) RCCO/09
GERALD BALES: Sonatine – D. Mervyn Games (1953 Casavant/St. Paul Cathedral, London, Ontario, Canada) Savvy 1001 (LP)
HEALEY WILLAN: 2 Pieces (Prelude on Aberystwyth; Aria, fr A Fugal Trilogy) –Patrick Wedd (1914-1995 Casavant/St. John the Baptist Church, Montreal, Canada) Naxos 8.557375
RONALD HANNAH: 3 Preludes (Nos. 4-2-5) –Marnie Giesbrecht (1991 Letourneau/West End Christian Reformed Church, Edmonton, Alberta) Arktos 94001
RUTH WATSON HENDERSON: 2 Anthems (Come Holy Spirit & Sing ye praises) –Elmer Iseler Singers/Lydia Adams; Robert Venables, trumpet; Matthew Larkin (1926 Casavant/Grace Church on-the-Hill, Toronto, Ontario) CBC 1167
AMÉDÉE TREMBLAY: Menuet français –Karen Holmes (1873-1988 Casavant/Church of St. Anne, Ottawa, Ontario) Holmes 2007
THOMAS JAMES CRAWFORD: Toccata in F –Deirdre Piper (1991 Casavant/St. Matthias Anglican Church, Ottawa, Ontario) Carlton 1007
Filler – MacMILLAN (see above)
Hour 2
GERALD BALES: Jubilate Deo. WILLIAM FRANCE: Oboe Tune. FREDERICK KARAM: The Modal Trumpet –Cathedral Choir/Gerald Bales; Paul Emch & Gerald Bales (Welte-Möller/St. Mark's Cathedral, Minneapolis, MN) Intrada 4-1
BALES: Elegy for Trumpet and Organ –Jeff Bailey, trumpet; Wilma Jensen (1986 Casavant/St. George's Episcopal Church, Nashville, TN) Pro Organo 7065
RACHEL LAURIN: Petite Suite sur un Motet de Gerald Bales, Op. 41 –Brenda Portman (1990 Casavant/Hyde Park United Methodist Church, Cincinnati, OH) Raven 975
BALES: Petite Suite –Gerald Bales (Welte-Möller/St. Mark's Cathedral, Minneapolis, MN) Intrada 4-1
BALES: Elegiac Prelude –Isabelle Demers (1990 Visser-Rowland/Wooddale Church, Eden Prairie, MN) PD Archive (r. 6/25/08)
BALES: Rhapsody for Organ and Small Orchestra –Allegro Sinfonia/William Stuber; Diana Lee Lucker (1998 Hendrickson/Wayzata Community Church, Wayzata, MN) PD Archive (r. 4/25/2003)
Filler – BALES: Petite Suite (see above)
In addition to Canada's national holiday, we also honor the centenary of the birth of esteemed Canadian organist, composer, and conductor Gerald Albert Bales (b. 5/12/1919 – d. 7/4/2002)

Continuing support of PIPEDREAMS is provided in memory of Wesley C. Dudley by his family, with additional support from Walter McCarthy, Clara Ueland, and the Greystone Foundation, by Jan Kirchner on behalf of her family foundation, by the Art and Martha Kaemmer Fund of the HRK Foundation, in celebration of the life of Martha Hulings Kaemmer, and by listener-contributors to this public radio station. Additional support comes from Casavant Frères, Ltd. of Saint-Hyacinthe, Quebec, and Dobson Pipe Organ Builders of Lake City, IA, members of APOBA, the Associated Pipe Organ Builders of America, a collaborative of designers, creators, and maintainers of pipe organs found in religious and educational institutions, concert halls, and residences throughout the United States and beyond. An APOBA resource guide and member prospectus is available at APOBA.COM.