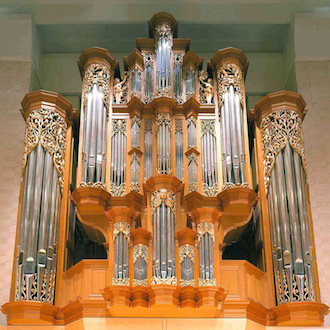 1998 Fritts/Pacific Lutheran University, Tacoma, WA
All That Jazz (II)
…despite its formidable reputation, the King of Instruments knows how to let its hair down now and then.
Listen to the program
For the convenience of those of you with mobile devices, now you can listen to our PIPEDREAMS audio at http://www.yourclassical.org!
Program Broadcast dates:
Links and Resources:
Music played in the program
Hour 1
RICHARD RODGERS: I wish I were in love again. LEWIS GENSLER: Love is just around the corner. JOAN WHITNEY & ALEX KRAMER: It's Love. BURT BACHARACH: What the world needs is love –Tom Hazleton (Wurlitzer/Capt'n's Galley, Campbell, CA) Pipe Organ Presentations 104
ASTOR PIAZZOLLA: Amelietango –Burkhard Schmidt, saxophone; Traugott Forschner, trumpet; Gunter Kennel (1957 Schuke/Passionskirche, Berlin-Kreuzberg, Germany) Kirchbauhof 75951
IRVING GORDON/BARBARA DENNERLEIN: The Unforgettable –Barbara Dennerlein (1962 Schuke/Kaiser Wilhelm Memorial Church, Berlin, Germany) Bebab 250974
KIT DOWNES: 2 Pieces (Kings; Flying Foxes) –Kit Downes (1877 Willis/Union Chapel, London & 2001 Bumstead/St. John's Baptist Church, Snape, England) ECM 2559
DAVID JOYNER: Un Poco Bud (Homage to Earl 'Bud' Powell): Eric Lundquist, trumpet; Luke Peterson, percussion; Corey Edwards, piano; PLU University Jazz Ensemble/David Joyner; Paul Tegels (1998 Fritts/Pacific Lutheran University, Tacoma, WA) PD Archive (r. 11/9/08)
Filler – DENNERLEIN: Always Remember (Bebab 250974)
Hour 2
BARBARA DENNERLEIN: Black and White –Barbara Dennerlein (Hammond C3/Studio Acousticum, Piteå, Sweden) Bebab 250977
ALAN MENKEN: Mean green mother from outer space, fr Little Shop of Horrors –Jonas Nordwall, Donna Parker & Martin Ellis/Trio Con Brio (van der Molen Studio/Wheaton, IL) TCB 333-03
FATS WALLER: Medley –Tom Hazleton (1938 Möller/Civic Auditorium, Pasadena, CA) PD Archive (r. 4/23/80)
FRANK ZAPPA: Alien Orifice –Ensemble Ambrosius; Jonte Knif (chamber organ) Bis Northern Lights 5013
DUKE ELLINGTON: I like the sunrise –Alice Babs, vocalist; Ulf Wesslén (1927 Åkerman & Lund/Maria Magdalena Church, Stockholm, Sweden) Prophone 021

DUKE ELLINGTON: Solitude –Anders Paulsson, saxophone; Harry Huff (1975 Åkerman & Lund/Katarina Church, Stockholm, Sweden) LCM 117
PIERRE CHOLLEY: 3 Pieces on D-S-C-H –Martin Heini (1996 Goll/St. Katherine's Church, Horw, Switzerland) Guild 7401
NEIL HEFTI: Li'l Darlin' –Thomas Jäger (1993 Jann/Keilberth Hall, Bamberg, Germany) Jäger2000
DAVID TIMM: Toccata on Christ ist erstanden –David Timm (1993 Voigt/St. Nikolai Church, Bad Liebenwerda, Germany) Raum Klang 9711
Filler – DENNERLEIN: The Unforgettable (see above)

Continuing support of PIPEDREAMS is provided in memory of Wesley C. Dudley by his family, with additional support from Walter McCarthy, Clara Ueland, and the Greystone Foundation, by Jan Kirchner on behalf of her family foundation, by the Art and Martha Kaemmer Fund of the HRK Foundation, in celebration of the life of Martha Hulings Kaemmer, and by listener-contributors to this public radio station. Additional support comes from Bond Organ Builders, Inc. of Portland, OR, and Buzard Pipe Organ Builders of Champaign, IL, members of APOBA, the Associated Pipe Organ Builders of America, a collaborative of designers, creators, and maintainers of pipe organs found in religious and educational institutions, concert halls, and residences throughout the United States and beyond. An APOBA resource guide and member prospectus is available at APOBA.COM.