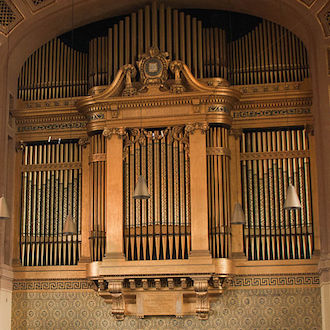 1929 Skinner/Woolsey Hall, Yale University, New Haven, CT
On Stage
…concert and competition performances feature 'live' music made vivid in the moment.
Listen to the program
For the convenience of those of you with mobile devices, now you can listen to our PIPEDREAMS audio at http://www.yourclassical.org!
Program Broadcast dates:
Links and Resources:
Music played in the program
Hour 1
PAUL MANZ: Praise to the Lord, the Almighty. MARIUS MONNIKENDAM: Toccata. GUILLAUME DUFAY: Alma redemptoris mater. PEETER CORNET: Fantasy on the 8th Tone. J.-B. LOEILLET: Aria. FRANZ SCHMIDT: 2 Chorale-preludes (O Ewigkeit, du Donnerwort; Nun danket alle Gott) –John Schwandt (1966 Schlicker/Mount Olive Lutheran Church, Minneapolis, MN) PD Archive (r. 10/2/16). This repertoire was played by Paul Manz during the inaugural concert on this instrument fifty years ago.
McNEIL ROBINSON: Soave e delicato (ii.), fr Sonata (1990). KALLE TOIVIO: Improvisation –Kalle Toivio (1981 Kney/Grace and Holy Trinity Cathedral, Kansas City, MO) PD Archive (r. 7/3/18). Kalle Toivio won First Prize during the National Competition in Organ Improvisation sponsored this past summer by the American Guild of Organists.
Filler – SCHWANDT: Hymn Accompaniment (Tallis Canon)
Hour 2
PIETRO YON: Toccata. J. P. SWEELINCK: Unter der Linden grüne Variations. CAMILLE SAINT-SAËNS: Pavane le Jardin, Op. 158b. AARON DAVID MILLER: Improvisations on Welsh Folk Songs (Ebeneezer; Suo Gan; The Ash Grove; St. Denio) –Aaron David Miller (1965 Noack/Unity Unitarian Church, Saint Paul, MN) PD Archive (r. 2/10/19)
MAX REGER: Fantasy & Fugue in d, Op. 135b –Robert Bennesh (2005 Lively-Fulcher/Christ Church & 1929 Skinner/Woolsey Hall, Yale University, New Haven, CT) PD Archive (r. 1/14/15 & 4/20/15)
Filler – MILLER: Improvisation (Ebeneezer)

Continuing support of PIPEDREAMS is provided in memory of Wesley C. Dudley by his family, with additional support from Walter McCarthy, Clara Ueland, and the Greystone Foundation, by Jan Kirchner on behalf of her family foundation, by the Art and Martha Kaemmer Fund of the HRK Foundation, in celebration of the life of Martha Hulings Kaemmer, and by listener-contributors to this public radio station. Additional support comes from Parsons Pipe Organ Builders of Canandaigua, NY and Pasi Organ Builders, Inc. of Roy, WA, members of APOBA, the Associated Pipe Organ Builders of America, a collaborative of designers, creators, and maintainers of pipe organs found in religious and educational institutions, concert halls, and residences throughout the United States and beyond. An APOBA resource guide and member prospectus is available at APOBA.COM.