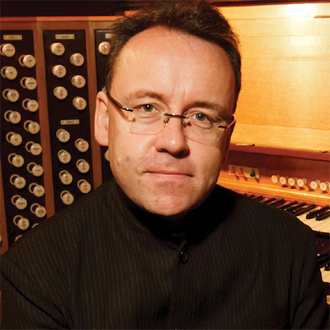 David Briggs
David Briggs in Concert
…the talented British recitalist presents a program of transcriptions, plus and improvisation, at Verizon Hall in Philadelphia.
Program Broadcast dates:
Links and Resources:
Music played in the program
Hour 1
J.S. BACH (trans. Briggs): Orchestral Suite No. 3 in D, BWV 1068. PAUL DUKAS (trans. Briggs): The Sorcerer's Apprentice. DAVID BRIGGS: Fantasy on Le Cloche de la Liberté (after John Philip Sousa).
Hour 2
PYOTR TCHAIKOVSKY (trans. Briggs): Symphony No. 4 in f, Op. 36
David Briggs plays the 88-stop Fred J. Cooper Memorial Pipe Organ (Dobson Opus 76) at the Kimmel Center (r. 4/10/14). Mr. Briggs, who seems to be in perpetual motion as a travelling soloist, appears in four venues in Minnesota in early April 2019, at the Church of St. Louis, King-of-France and the Cathedral of St. Paul in Saint Paul (Tuesday, April 2); Boe Chapel at St. Olaf College, Northfield (Friday, April 5); and Christ Chapel at Gustavus Adolphus College, St. Peter (Tuesday, April 9), including master-class workshops on both college campuses.

Continuing support of PIPEDREAMS is provided in memory of Wesley C. Dudley by his family, with additional support from Walter McCarthy, Clara Ueland, and the Greystone Foundation, by Jan Kirchner on behalf of her family foundation, by the Art and Martha Kaemmer Fund of the HRK Foundation, in celebration of the life of Martha Hulings Kaemmer, and by listener-contributors to this public radio station. Additional support comes from C. B. Fisk, Inc. of Gloucester, MA, and Foley-Baker, Inc. of Tollund, CT, members of APOBA, the Associated Pipe Organ Builders of America, a collaborative of designers, creators, and maintainers of pipe organs found in religious and educational institutions, concert halls, and residences throughout the United States and beyond. An APOBA resource guide and member prospectus is available at APOBA.COM.