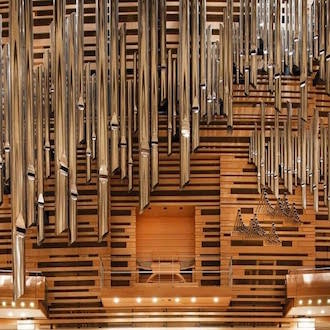 2014 Casavant/Maison Symphonique, Montreal, Canada
…in any era, the blend of these very different sound-sources always fascinates.
Listen to the program
For the convenience of those of you with mobile devices, now you can listen to our PIPEDREAMS audio at http://www.yourclassical.org!
Program Broadcast dates:
Links and Resources:
Music played in the program
Hour 1
G. F. HANDEL: Concerto in D, fr The Triumph of Time and Truth –Ars Lyrica Houston; Matthew Dirst (2010 Fritts/St. Philip Presbyterian Church, Houston, TX) Loft 1138
JOHN STANLEY: Organ Concerto in C, Op. 10, no. 6 –Langham Sinfonia/Noël Tredinnick; Gerard Brooks (1792 England-1978 Mander/St. James's Clerckenwell, London, England) Priory 439
CHARLES-MARIE WIDOR: Ouverture portugaise (1865) –Melbourne University Orchestra/Richard Davis; Harold Fabrikant (1929 Hill, Norman & Beard-2001 Schantz/Town Hall, Melbourne, Australia) PD Archive (r. 4/26/18)
JOSEPH JONGEN: Alleuja, Op. 112 –Symphony in C/Rossen Milanov; Peter Richard Conte (Wanamaker organ/Macy's Department Store, Philadelphia, PA) Gothic 49293
SAMY MOUSSA: A Globe Itself Infolding (2014) –Montreal Symphony Orchestra/Kent Nagano; Jean-Willy Kunz (2014 Casavant/Maison Symphonique, Montreal, Canada) Analekta 8779
Filler – HANDEL (see above)
Hour 2
ANTONIO VIVALDI: Concerto in d for Violin, Organ and Strings, RV 541 –J.C. Bach Akademie/Ingeborg Scheerer; Johannes Geffert (Klais chamber organ) Fermate 20002
ATSUTADA OTAKA: Fantasy for Organ and Orchestra (1999) –Sapporo Symphony/Tadaaki Otaka; Bryan Ashley (1997 Kern/Concert Hall, Sapporo, Japan) Chandos 9876
NAJI HAKIM: Concerto No. 1 for Organ and Strings –Vibrations Ensemble/Nicolas Simon; Marie-Bernadette Dufourcet (2001 Kuhn/Hofkirche, Lucerne, Switzerland) IFO 323
Filler – WIDOR (see above)

Continuing support of PIPEDREAMS is provided in memory of Wesley C. Dudley by his family, with additional support from Walter McCarthy, Clara Ueland, and the Greystone Foundation, by Jan Kirchner on behalf of her family foundation, by the Art and Martha Kaemmer Fund of the HRK Foundation, in celebration of the life of Martha Hulings Kaemmer, and by listener-contributors to this public radio station. Additional support comes from Buzard Pipe Organ Builders of Champaign, IL, and Casavant Frères, Ltd. of Saint-Hyacinthe, Quebec, members of APOBA, the Associated Pipe Organ Builders of America, a collaborative of designers, creators, and maintainers of pipe organs found in religious and educational institutions, concert halls, and residences throughout the United States and beyond. An APOBA resource guide and member prospectus is available at APOBA.COM.