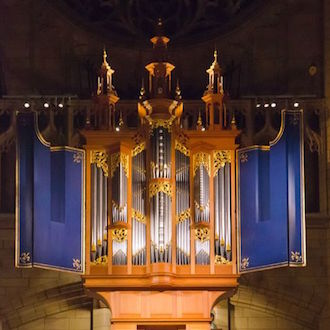 1996 Taylor & Boody/St. Thomas Church, New York, NY
…praises, blessings, and general glorifications make these compositions particularly splendid.
Listen to the program
For the convenience of those of you with mobile devices, now you can listen to our PIPEDREAMS audio at http://www.yourclassical.org!
Program Broadcast dates:
Links and Resources:
Music played in the program
Hour 1
CHARLES VILLIERS STANFORD: Te Deum in C –Tewkesbury Abbey Preparatory School Schola/Simon Bell; Carleton Etherington (1997 Jones/Tewkesbury Abbey, England) Regent 510
JEAN LANGLAIS: Hymne d'action de grace (Te Deum), fr. 3 Gregorian Paraphrases –Ann Labounsky (1977 Casavant/St. Peter Cathedral, Erie, PA) Voix du Vent 1001
CHARLES TOURNEMIRE: Te Deum (improvisation, r. 1930) –Charles Tournemire (1859 Cavaillé-Coll/Church of St. Clothilde, Paris, France) EMI 74866
NAJI HAKIM: Te Deum –Naji Hakim (1871 Cavaillé-Coll/La Trinité, Paris, France) IFO 321
J. S. BACH: Herr Gott, dich loben wir, BWV 725 –Hans Fagius (1724 Cahman/Kristine Church, Falun, Sweden) Bis 439/40
DIETERICH BUXTEHUDE: Te Deum, BuxWV 218 –John Scott (1996 Taylor & Boody/St. Thomas Church, New York, NY) PD Archive (r. 5/12/07)
Filler – TRADITIONAL: Gregorian Te Deum (Celestial Harmonies 13094)
Hour 2
MAX REGER: Te Deum, Op. 59, no. 12 –Josef Still (1974 Klais/Trier Cathedral, Germany) Naxos 8.555905
HECTOR BERLIOZ: Te Deum–Francis Bardot, tenor; Maitrise des Hauts de Seine; Parisian Choirs; Meudon Music School Orchestra/Christian Gouinguené Jacques Taddei (1962 Beuchet-Debierre/Saint-Louis-des-Invalides, Paris, France) Thesis 11002. We commemorate the 15th anniversary of the death of Hector Berlioz (d. 3/8/1869)
Filler – BERLIOZ (see above)

Continuing support of PIPEDREAMS is provided in memory of Wesley C. Dudley by his family, with additional support from Walter McCarthy, Clara Ueland, and the Greystone Foundation, by Jan Kirchner on behalf of her family foundation, by the Art and Martha Kaemmer Fund of the HRK Foundation, in celebration of the life of Martha Hulings Kaemmer, and by listener-contributors to this public radio station. Additional support comes from Berghaus Organ Company, Inc. of Bellwood IL, and Bond Organ Builders, Inc. Of Portland, OR, members of APOBA, the Associated Pipe Organ Builders of America, a collaborative of designers, creators, and maintainers of pipe organs found in religious and educational institutions, concert halls, and residences throughout the United States and beyond. An APOBA resource guide and member prospectus is available at APOBA.COM.