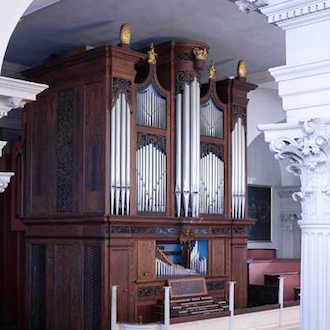 1964 Fisk/King's Chapel, Boston, MA
New Music from Boston
…premieres of commissioned works and spontaneous improvisations recorded during the 2014 AGO National Convention.
Listen to the program
For the convenience of those of you with mobile devices, now you can listen to our PIPEDREAMS audio at http://www.yourclassical.org!
Program Broadcast dates:
Week of February 18, 2019
Links and Resources:
Music played in the program
Hour 1
ROBERT NICHOLLS: Triptych Improvisation on Themes by William Billings –Robert Nicholls (1953 Aeolian-Skinner/Arlington Street Church, Boston, MA) PD Archive (r. 6/25/14)
ROBERT SIROTA: Apparitions for Organ and String Quartet –Gabriela Diaz & Gabriel Boyers, violin; Noriko Herndon, viola; Rafael Popper-Keizer, cello; Heinrich Christensen (1964 Fisk/King's Chapel, Boston, MA) PD Archive (r. 6/26/14)
DAVID LASKY: Prelude on Picardy –Mark Dwyer, organist. NICO MUHLY: Patterns –John Scott, organist. TRADITIONAL: Hymn, Sine nomine –Mark Dwyer (1938-1964 Aeolian-Skinner/Church of the Advent, Boston, MA) PD Archive (r. 6/26/14)
Filler – NICHOLLS (see above)
Hour 2
CARSON COOMAN: Solstice Fanfare and Sonata, Op. 1013 –Chris Gekker, trumpet; Christian Lane (2012 Fisk/Memorial Church, Harvard University, Cambridge, MA) PD Archive (r. 6/24/14)
HILARY TAN: Embertides –Heinrich Christensen (1972 Casavant/1st Unitarian Church, Boston, MA) PD Archive (6/25/14)
IVAN BOZICEVIC: Kyrie eleison –Choir of St. Paul's, Harvard Square/John Robinson; Jonathan Wessler (1883 Hook & Hastings/Mission Church, Boston, MA) PD Archive (r. 6/27/14)
THIERRY ESCAICH: Symphonic Triptych on 2 Themes (O Zion haste; Be Thou my vision) –Thierry Escaich (Mission Church) PD Archive (r. 6/27/14)
Filler – TRADITIONAL (see above)
Thanks to Martin Steinmetz of the Boston Chapter of the AGO and audio engineers Christopher Greenleaf, Kathrine Handford, Alan McClellan and Stephanie Rogers for providing recordings of these convention events.

Continuing support of PIPEDREAMS is provided in memory of Wesley C. Dudley by his family, with additional support from Walter McCarthy, Clara Ueland, and the Greystone Foundation, by Jan Kirchner on behalf of her family foundation, by the Art and Martha Kaemmer Fund of the HRK Foundation, in celebration of the life of Martha Hulings Kaemmer, and by listener-contributors to this public radio station. Additional support comes from Taylor & Boody, Organbuilders of Staunton, VA, and A. Thompson-Allen Company of New Haven, CT, members of APOBA, the Associated Pipe Organ Builders of America, a collaborative of designers, creators, and maintainers of pipe organs found in religious and educational institutions, concert halls, and residences throughout the United States and beyond. An APOBA resource guide and member prospectus is available at APOBA.COM.