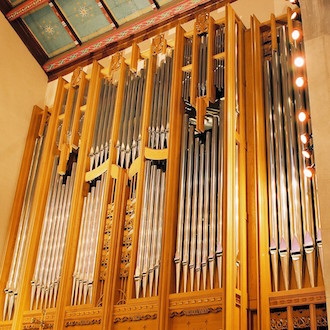 2002 Létourneau/Lutheran Church of the Redeemer, Atlanta, GA
Prizewinners Play
…young musicians on the way up perform in Kansas, Georgia, and Massachusetts.
Listen to the program
For the convenience of those of you with mobile devices, now you can listen to our PIPEDREAMS audio at http://www.yourclassical.org!
Program Broadcast dates:
Week of February 11, 2019
Links and Resources:
Music played in the program
Hour 1
LEO SOWERBY: Comes Autumn Time. THOMAS KERR: Arietta –Aaron Tan (2016 Richards, Fowkes/Village Presbyterian Church, Prairie Village, KS) PD Archive (r. 7/2/18). Mr. Tan took First Prize in the American Guild of Organists 2018 National Young Artist Competition in Organ Performance.

STEPHEN PAULUS: Organic Romp. ROBERT HORTON: Improvisation –Robert Horton (1981 Kney/Holy Trinity Cathedral, Kansas City, MO) PD Archive (r. 7/3/18). Mr. Horton won Second Prize and the Audience Prize in the American Guild of Organists 2018 National Competition in Organ Improvisation.
SIGFRID KARG-ELERT: La nuit, fr Trois Impressions, Op. 72. LOUIS VIERNE: Final, fr Symphony No. 6, Op. 59 –Aaron Tan (r. 7/2/18)
Filler – BOLCOM: Jesus loves me, fr Gospel Preludes –Aaron Tan (see above)
Thanks to audio engineers William F. Lund and Kathrine Handford from Digital On Location for providing audio for this hour.
Hour 2
J. S. BACH: Fantasy & Fugue in g, BWV 542. VINCENT PERSICHETTI: Organ Sonata –Chase Loomer (2002 Létourneau/Lutheran Church of the Redeemer, Atlanta, GA) PD Archive (r. 4/21/18). Mr. Loomer took 1st Prize in the 2018 Taylor Organ Competition.
FRANZ DANKSAGMÜLLER: Estampie (2007). BACH: Vater unser im Himmelreich, BWV 682. BACH: Adagio & Fugue in C, BWV 564 –Adriaan Hoek (2000 Richards, Fowkes/1st Lutheran Church, Boston, MA). PD Archive (r. 9/9/18). Mr. Hoek won the Yuko Hayashi Memorial First Prize at the 2018 Boston Bach International Organ Competition.
Filler – BACH: Passacaglia in c, BWV 582 –Aaron Tan (see above)

Continuing support of PIPEDREAMS is provided in memory of Wesley C. Dudley by his family, with additional support from Walter McCarthy, Clara Ueland, and the Greystone Foundation, by Jan Kirchner on behalf of her family foundation, by the Art and Martha Kaemmer Fund of the HRK Foundation, in celebration of the life of Martha Hulings Kaemmer, and by listener-contributors to this public radio station. Additional support comes from Solid State Organ Systems of Alexandria, VA, and Syndyne Corporation of Vancouver, WA, members of APOBA, the Associated Pipe Organ Builders of America, a collaborative of designers, creators, and maintainers of pipe organs found in religious and educational institutions, concert halls, and residences throughout the United States and beyond. An APOBA resource guide and member prospectus is available at APOBA.COM.