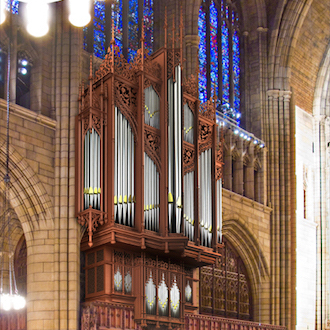 Dobson Op. 93/St. Thomas Church, New York, NY
A New York Inaugural
…David Hyde's opening concert on the highly anticipated new Miller-Scott Memorial Organ (Dobson Opus 93) at St. Thomas Church on 5th Avenue.
Program Broadcast dates:
Links and Resources:
Music played in the program
Hour 1
RICHARD WAGNER: Die Meistersinger Overture
J. S. BACH: Allein Gott in der Höh sei Ehr, BWV 715, 711, 717, & 664 (4 settings)
SIGFRID KARG-ELERT: Valse Mignone, Op. 142, no. 2. DUDLEY BUCK: Variation on The Star-spangled Banner
Hour 2
HENRY PURCELL: Hymn, Westminster Abbey (Christ is made a sure foundation)
EDWARD BAIRSTOW: Anthem, Blessed city, heavenly Salem
CÉSAR FRANCK: Choral No. 1 in E
J. P. SWEELINCK: Variations, Mein junges Leben hat ein end
GERRE HANCOCK: Improvisation on St. Clement (The day though gavest, Lord, is ended)
LOUIS VIERNE: Final, fr Symphony No. 1, Op. 14
Most solo performances (r. 10/5/18) and choral direction features Daniel Hyde, out-going Director of Music. Associate Organist Benjamin Sheen provides one solo and choral accompaniments (r. 10/7/18). Thanks to St. Thomas Church Communications Manager Avery Griffin for providing recordings for our use. Audio for many organ recitals and almost all choral services at Saint Thomas Church is streamed live and archived online for varying periods of time.

Continuing support of PIPEDREAMS is provided in memory of Wesley C. Dudley by his family, with additional support from Walter McCarthy, Clara Ueland, and the Greystone Foundation, by Jan Kirchner on behalf of her family foundation, by the Art and Martha Kaemmer Fund of the HRK Foundation, in celebration of the life of Martha Hulings Kaemmer, and by listener-contributors to this public radio station. Additional support comes from members of APOBA, the Associated Pipe Organ Builders of America, a collaborative of designers, creators, and maintainers of pipe organs found in religious and educational institutions, concert halls, and residences throughout the United States and beyond. An APOBA resource guide and member prospectus is available at APOBA.COM.